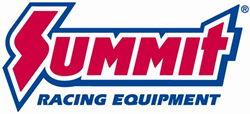 Tallmadge, OH (PRWEB) February 11, 2015
Designed for high-power performance engines, the Holley EFI Mid-Rise Intake Manifold for GM LS has an operating range from around 1,500 to 6,500 RPM. The long runners and tapered cross section make the manifold compatible with a variety of different engine configurations. It includes specialized fuel rails, machined for -8 AN O-rings. The fuel passages are enlarged to accommodate increased fuel flows, while damping pressure pulsations in the fuel system.
The design of these manifolds helps achieve higher torque numbers at a lower RPM, which makes them perfect for off-roading and rock crawling projects. Which is why Ian Johnson spec'd one for Xtreme Off-Road's Extreme YJ Build.See it on Episode 2 of PowerNation's Xtreme Off Road.
Two options are available:
HLY-300-126 1997-2007 GM LS1/LS2/LS6 with Cathedral Port Heads
HLY-300-135 2008-15 GM LS3/L92 with Rectangular Port Heads
Summit Racing Equipment
http://www.SummitRacing.com
1-800-230-3030