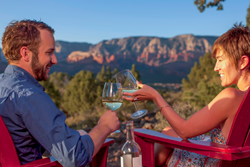 Sedona, Arizona (PRWEB) February 10, 2015
Pink Jeep Tours, the iconic Sedona Jeep tour company, is offering for the first time ever, a very unique Valentine's Day experience in the majestic red rocks of Sedona. On Saturday, February 14, avoid the loud and crowded restaurants that are associated with a typical Valentine's Day dinner and experience a romantic, VIP off-road adventure and a savory sunset dinner with spectacular buttes, spires and mesas as the backdrop.
The Valentine's Day adventure includes an off-road Jeep tour through some of the most spectacular scenery in Sedona, a delectable dinner served in a remote red-rock setting, a strolling musician providing a romantic setting, a photographer to capture the unique moments, unlimited beer, wine, and soft drinks, and a dazzling red-rock sunset.
The evening starts by loading into a custom Jeep Wrangler and heading out towards the red rocks for an off road adventure to an exclusive viewpoint. Upon arrival, the sights will mesmerize, the wine & beer will flow and the live music will set the stage for a truly romantic evening. The Personal Chef will fire up the grill and prepare a choice of steak, salmon or Portobello mushroom. Take a seat and enjoy a three course meal as the sun sets on a Valentine's Day experience that will rival any dinner from a favorite restaurant. As the sun dips, jump back in the Jeep and bundle up with your loved one for an off-road adventure back into town as the night winds down on the most memorable Valentine's Day ever.
This unique Valentine's Day adventure package costs $225 per person and includes the following:

Thrilling Diamondback Gulch Jeep tour
Dinner prepared on-site by Personal Chef
Dinner includes your choice of Beef Filet, Grilled Salmon, or Marinated Portobello, Cucumber Tomato Salad, Buffalo Brochette, Baked Potato, Grilled Vegetables, Southwest Corn Bread, Chips & Salsa, Cheesecake, unlimited Beer, Wine, and Soft Drinks
Dinner served on a secluded viewpoint surrounded by red-rock spires, buttes, and mesas
Strolling musician
Photographer to capture the experience
Make plans, memories, and promises this Valentine's Day with Pink Jeep Tours. Tour is available on Saturday, February 14 from 4:00pm to 7:00pm. Space is limited, to reserve this unique Valentine's experience call 928-203-7040.
# # #
About Pink Adventure Group
Pink Adventure Group is the best adventure tour company in Arizona & Las Vegas, Nevada. Founded in 1960 with its corporate headquarters in Sedona, Arizona, it serves visitors from around the world with a fleet of 150 vehicles. It is the only tour company with guide trainers certified by the National Association for Interpretation, and the only tour company to use the professional driver training company, Smith System®, by all guides. Pink Adventure Group has reinvented adventure with its cutting edge vehicles, industry leading guides, and unique adventure tours.