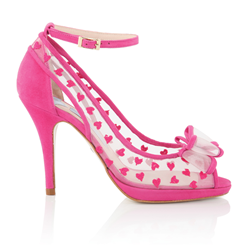 Many brides do still choose classic styles but some brides want to create a talking point with their footwear, make a statement or just have some amazing photographs for their wedding album
(PRWEB UK) 11 February 2015
The trend for bright, vibrant accessories has inspired bridal footwear designers to launch brightly coloured wedding shoes for 2015 brides. Charlotte Mills introduces two new coloured styles to her already vibrant collection including a best seller - Alexis - in a lush hot pink and also another staple style - ballet flat Anabel - with a cute fuchsia suede heart. Charlotte Mills is renowned for her daring designs and the retro-inspired Alexis red is perfect for brides trying to recreate a Fifties inspired look. The Ana Blue style is raved about in the press with its gorgeous duck egg hues - a trendy option for a bride's 'Something Blue'.
The bridal industry has seen plenty of ivory and white tones and it seems this is the season for a splash of colour. Luxury accessory designer Harriet Wilde has also introduced some coloured designs this season - this luxe label's take on 'Something Blue' shoes offers brides a unique twist with a deep turquoise suede of the best selling Sakura style. Harriet Wilde has also taken inspiration from the pink, blush and nude gowns on the bridal catwalk and introduced some feminine, chantilly lace pumps and trendy ankle boots in a soft shade of dusty pink.
"We've seen a big increase in brides looking for something different for their wedding shoes. Many brides do still choose classic styles but some brides want to create a talking point with their footwear, make a statement or just have some amazing photographs for their wedding album," says Amy Karim, owner of Crystal Bridal Accessories. "More brides are having their shoes dyed to a colour of their choice as well as choosing something in a vibrant shade or in silver, gold or champagne moving away from the traditional ivory colour - pink wedding shoes are set to be the next biggest trend!"
"The Charlotte Mills collection offers a hint of retro styling which is all about vibrant shades and candy tones. A Charlotte Mills brides knows what she wants - she isn't afraid to be daring with her accessories! Harriet Wilde's pink footwear styles offer a more sophisticated hint of colour which would tone perfectly with a luxury pink designer wedding gown." adds Amy.
The range of coloured wedding shoes by Charlotte Mills and Harriet Wilde are available on the Crystal Bridal Accessories website. Brides can also choose to have their shoes dyed to match any colour they desire with a quality, hand colouring service on all of the Pink Paradox, Benjamin Adams and Rainbow Club shoes.
END
About Crystal Bridal
Crystal Bridal Accessories is an innovative business specialising in accessories for weddings, parties, balls, proms and special occasions. The online boutique offers the entire range of wedding shoes by Charlotte Mills, Paradox London, Benjamin Adams, Rainbow Club, Harriet Wilde and Love Art Wear Art and quality wedding hair accessories by Louis Mariette, Halo and Co, Ivory and Co, and other brands made with genuine Swarovski crystals. Crystal Bridal Accessories also stock a range of wedding gloves, Joyce Jackson wedding veils, bridal sashes and Lily Bella bird cage veils. Crystal Bridal Accessories is for the bride, bridesmaids, mother-of-the bride and for anyone who loves shoes, jewellery and handbags.
Crystal Bridal Accessories has been nominated for finalist for the British Wedding Awards 2015, Nominee for the Wedding Industry Awards 2014, Perfect Wedding Magazine 2013 and 2014 and Wedding Ideas Magazine 2013 and 2014. The company was Highly Commended by Wedding Ideas Awards 2012 for contribution to Bridal Accessories.
Brides can shop online or visit the showroom in Meadowhall, Sheffield serving brides across Yorkshire. For further information or to request high resolution product images, please email us.