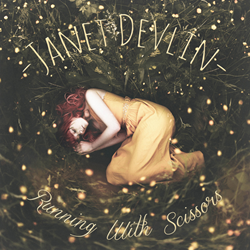 New York, NY (PRWEB) February 10, 2015
Singer-songwriter Janet Devlin releases her debut album "Running With Scissors" today, February 10th. The 10-track album is full of folk-driven pop songs and heart touching ballads, showcasing Janet's unique and enchanting vocals, which first caught the public's attention on Series 8 of The UK X Factor, quickly making her the 'Fan Favorite' of the season.
"Running With Scissors," which has already hit Number 1 on the Official UK Independent Album Charts, is mainly self-penned by Janet. It features co-writes with Newton Faulkner ("Creatures of The Night" and "Hide And Seek") and Jack Savoretti ("Delicate"), alongside a surprising cover of The Cure's "Friday I'm In Love".
Influences ranging from Imogen Heap, Turin Brakes, Adele, Mumford & Sons, Avril Lavigne, Regina Spektor and Florence & The Machine can be heard within this well-produced album full of rolling percussion, lush harmonies, string sections and acoustic guitars. There's even a hint of Jack Johnson on the album, which can be found on the track "Lifeboat" that features jaunty offbeat guitars. "Running With Scissors" is an album about growing up, becoming independent and dealing with a whole range of new emotions.
Influenced and inspired by bands such as Foo Fighters and Red Hot Chili Peppers, Janet learned to play the guitar and write her own songs at a young age. She currently has over 350,000 active fans on social media who call themselves The Devlinators.
"Running With Scissors" is available for purchase in records stores nationwide, on Amazon, iTunes, and the OK!Good Records web-store. "Running With Scissors" is also available for streaming on Spotify. The OK!Good web-store is featuring exclusive Janet Devlin merchandise, which is available for purchase today.
Track Listing:
1. Creatures Of The Night
2. House Of Cards
3. Hide & Seek (feat. Newton Faulkner)
4. Lifeboat
5. Things We Lost In The Fire
6. Wonderful
7. Delicate
8. Friday I'm In Love (The Cure cover)
9. When You Were Mine
10. Whisky Lullabies
For more information about Janet Devlin visit: JanetDevlin.com
Be sure to stay connected with Janet on Twitter, Instagram, Facebook, and YouTube.
About OK!Good Records:
OK!Good Records is a genre independent record label established in 2010 to distribute, market, and promote artists and music that defy boundaries, reject limitations, and transcend the ordinary. They champion and celebrate independent music, thought, art, expression, and enterprise.http://www.okgoodrecords.com