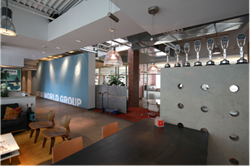 "At New World, we provide our employees with open space, flexible time, and state of the art technology that allows them to do what they do best…innovate." - Chris Seriale, President of New World Group
Secaucus, N.J. (PRWEB) February 11, 2015
Walking through the glass doors of the New World Group office based in Secaucus, N.J. and in Los Angeles, Calif., it is apparent to the naked eye why it has been named to Counselor Magazine's annual list of Best Places to Work. The fully integrated advertising and branding agency came in at number 19 amongst 90 other companies in the ad specialty industry, carefully ranked by its employees.
With a strong presence in the entertainment industry and a portfolio full of high-profile clientele, it's not surprising that NWG provides employees with the tools needed for success, as well as a great atmosphere to work in: "At New World, we provide our employees with open space, flexible time, and state of the art technology that allows them to do what they do best…innovate. Providing an exceptional work environment leads to having exceptional team members and 'makes incredible things happen.'" - Chris Seriale, President of New World Group.
A full-service advertising and branding agency, New World Group is able to offer its clients the complete creative package including promotional products, idea creation, warehousing and fulfillment, as well as custom apparel. Being able to provide endless advertising possibilities, the innovation center has earned its relationships with long-standing partners such as Disney, HBO, Marvel Entertainment, Capitol Records, and Warner Music Group.
As a result of its gratifying office environment and dynamic team of innovators, New World Group is able to thrive and recorded record sales in 2014 that were directly attributed to its superior customer service, in depth safety compliance procedures, exceptional idea creation, and worldwide direct sourcing.
"Providing an exceptional, comfortable and creativity inducing work environment makes incredible things happen - and incredible things need to happen to provide great solutions to our clients and continue to draw the most cutting edge and creative thinkers to our team." – Jennifer Carp, Vice President of New World Group.