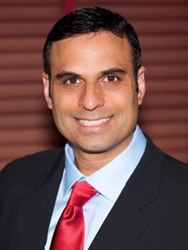 Oakbrook, IL (PRWEB) February 09, 2015
Oakbrook, IL Periodontist, Dr. Amarik Singh has recently joined an elite group of dental professionals who are certified to perform the Chao Pinhole Surgical Technique (PST™). PST™ is a new type of receding gums treatment and gum grafting alternative. With this procedure, Dr. Singh can now reduce the risk that patients will experience health complications associated with gum recession or more invasive gum recession treatments.
With PST™, Dr. Singh corrects gum recession without any large incisions or sutures, in most cases. Instead of harvesting and relocating healthy tissue, Dr. Singh directly adjusts the position of the receding tissue. Dr. Singh does this by making a small pinhole incision and using a small tool to reach through the incision to gently loosen the gum tissue. Eventually, Dr. Singh can push the receded tissue back to a more natural position. Unlike gum grafting, PST™ can correct recession affecting multiple teeth in a single session. Since the procedure is minimally invasive, the risk of infections is low, and many patients notice minimal bleeding or discomfort following the procedure.
While many people in Oakbrook may see gum recession as a cosmetic issue, Dr. Singh reminds patients that recession can also have more serious health consequences. Receding gums can leave teeth inadequately protected or supported, resulting in sensitivity, mobility and even infection. Gum recession can also be a warning sign of serious oral health problems, including gum disease, insufficient hygiene, bite misalignment or teeth grinding. Patients who prioritize seeing Dr. Singh for gum recession treatment can also receive earlier treatment for any underlying oral health issues, which can reduce the likelihood of long-term health complications.
People who are suffering from receding gums may notice several symptoms. Visual indications include changes in gum pocket size; an apparent increase in the length of the teeth; and the exposure of the cementum, which is etched or yellow, at the base of the teeth. Some people may also notice feelings of tooth mobility or sensitivity. People who notice these signs are encouraged to protect their oral health by scheduling an appointment with Dr. Singh in Oakbrook. Patients are invited to call Dr. Singh's office or visit his website to set up the appointment.
About the Practice
Periodontal Implant Associates is a periodontal practice offering personalized dental care for patients in Chicago, IL. After graduating from Northwestern University Dental School, Dr. Amarik Singh went on to obtain his Specialty Certificate in Periodontics and earn his Master's from Northwestern University. Dr. Singh is deeply committed to continuing education and prides himself on remaining on the cutting-edge of the newest techniques and technology in dentistry. Dr. Singh is part of an elite group of dental professionals at the forefront of the Chao Pinhole® Surgical Technique (PST®), a revolutionary new approach to repairing gum recession. To learn more about the periodontal services available at Periodontal Implant Associates, please visit http://www.pidentists.com or call 630-424-9404.