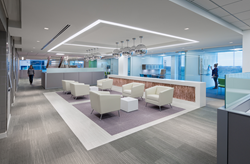 Washington, DC (PRWEB) February 10, 2015
The year 2014 was the 24th year of operation for OTJ Architects, headquartered in Washington, DC. It also marked a year of change, growth and continued success.
In October, Ania Leeson became Studio Director and was named an Associate at the end of the year. A registered architect and LEED Accredited Professional with a Master's in Architecture from Harvard University, her career has spanned 10 years with the past four years being at OTJ. Ania's technical background and experience were integral in leading and designing two of OTJ's showpiece projects: National Restaurant Association and National Trust for Historic Preservation, which were both recently featured in the Washington Business Journal.
Laura Kennington, who previously served as Director of Business Development & Marketing Strategy, was named Partner in December. Having joined OTJ nine years ago, she leads the marketing and business development teams and is involved in setting the strategic direction of the firm. She is an active member of the real estate community and currently serves on the Jubilee Support Alliance Auxiliary Board and is involved in organizations such as CoreNet Global, CADRE and Commercial Real Estate Marketers. Her local involvement also includes being a former Co-Director of the Real Estate Games for JDRF and member of Commercial Real Estate for Women.
Other OTJ staff named Associates in 2014 include: Annette Carter, Kaan Dilber, Brett Hartle, Travis Herret and Elizabeth Long.
In addition to these individual accomplishments, firm-wide success can be seen in projects successfully completed in 2014 – several detailed below – and also include national work for Strayer University, Level 3 and a leading banking and financial institution.
United Educators
To allow for growth and open up the floor plate, our design placed workstations along the window line, with 80 percent of offices on the interior. The lunchroom, or bistro, was moved to the interior and provides a social, collaborative space for staff to gather. Because it is not on the window line, we included a floor-to-ceiling bamboo wall decal to provide an organic, outdoorsy element in the space.
Council on Competitiveness
Council on Competitiveness's main focus was the design of its 50-person conference room, which is used for board meetings and may be rented for use by other organizations. The nonprofit also wanted to solely use American products because its mission is to increase the nation's competitiveness in the global market; therefore, 99 percent of the products found in the space were made in the United States.
Global Integrity
Global Integrity, a permanent tenant in a co-working office, has an open office design incorporating perimeter phone rooms, a variety of meeting rooms, charging stations, a large pantry and a 2,000 SF event space complete with a bar and foosball table. Touchdown desks are available to rent for visitors, as is the event space, which is used for educational and networking events.
SunEdison
SunEdison's office features contemporary details and abstract materials to reinforce the brand including a sunburst graphic in the conference room and light fixtures that mimic the sun in reception. An elegant staircase also connects the floors functionally and spatially and promotes cohesion between the two floors, which will eventually house separate divisions.
Transwestern
To help staff transition from offices to workstations, the space has five team rooms with ample audio/visual solutions. We also created a large multi-purpose area next to reception that is used for all-staff meetings, informal meetings, lunch and greeting visitors. It was designed to reflect Transwestern's culture within the new office, which is targeting certification at the LEED® Silver level.
Contact OTJ Architects to discuss your architectural needs today.
About OTJ Architects
OTJ Architects is a well-respected national interior architecture design firm that has successfully completed thousands of projects throughout the country. Founded in 1990, OTJ is comprised of five studios headquartered in Washington, DC, with more than 60 architects and designers, many of whom are LEED Accredited Professionals. OTJ works on projects coast to coast and is able to consult in all 50 states. The responsive interior architecture consultants create effective environments through listening, understanding and tailored design. These designs focus on helping clients enhance collaboration, company branding and employee recruitment and retention. OTJ's design teams provide clients with personalized attention to create workplace solutions that reflect their unique, individual needs. For more information visit otj.com.