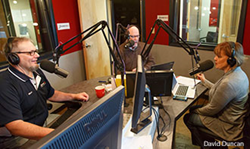 Lynchburg, Va. (PRWEB) February 09, 2015
Liberty University's newly reformatted radio station, The Journey FM (formerly the Victory FM Network), launched on Dec. 26. The new programming features local and national hosts, inspirational life stories, high levels of planned community engagement, as well as popular Christian music artists, such as Chris Tomlin, Francesca Battistelli, MercyMe, Jeremy Camp, Tenth Avenue North, Liberty alumna Meredith Andrews, Mandisa, and many more.
The Journey is broadcast on 25 signals across Virginia and North Carolina. The station has launched a promotional campaign on billboards, TV, and in print across the Central, Southwestern, and Tidewater regions of Virginia.
Though music is a part of radio, what makes The Journey unique is its ability to connect deeply with people, wherever they are, at whatever stage of life they are in.
"The Journey is about our walk together and our path toward God, getting to know Him, getting to know each other," said General Manager Barry Armstrong. "We understand that we matter to God, but I don't think we realize how much our story matters to others. That is what we really want to focus on here at The Journey: words of life, stories of hope and transformation, and lots of great Christian music. All of this draws us closer, leads us to praise, and builds community."
Throughout the day, listeners can hear from authentic Christians engaged in relevant conversation. The Morning Journey currently features Armstrong and his wife, Linda, also a veteran broadcaster. Nationally recognized radio personalities Amanda Carroll and Brant Hansen share their stories and offer unique perspectives on Christian living in the afternoons and evenings, respectively. Middays feature "The Karen Kingsbury Show," hosted by the best-selling author who was recently named a visiting professor at Liberty.
In Lynchburg, The Journey is a continuation of a rich legacy.
"The radio station was started 33 years ago by Liberty's founder, Dr. Jerry Falwell, as part of his 'saturation evangelism,' where he wanted to reach every available person at every available time using every available means," Armstrong explained. "I really see The Journey as a current extension of that."
Listen live on http://www.MyJourneyFM.com, or connect with The Journey through Facebook, http://www.Facebook.com/MyJourneyFM. A brand new multi-function App for iPhone and Android systems is being planned.
Listen to The Journey FM
Lynchburg/Roanoke/Danville, Va. – 88.3
Charlottesville, Va. – 96.7
Waynesboro, Va. – 100.3
Richmond, Va. – 94.9
Tidewater Area/Elizabeth City, N.C. – 88.3/98.3/107.3
Roanoke Rapids, N.C. – 91.1
Rocky Mount, N.C. – 107.3
Berryville, Va. – 89.5
Clifton Forge, Va. – 96.7
Culpeper, Va. – 95.3
Fredericksburg, Va. – 94.1
Front Royal, Va. – 98.9
Harrisonburg, Va. – 101.3
Marion, Va. – 105.1
Newport News, Va. – 96.9
Petersburg, Va. – 104.1
Pulaski, Va. – 106.5
South Boston, Va. – 103.7
Suffolk, Va. – 107.3
Virginia Beach, Va. – 98.3
Warrenton, Va. – 91.7
Waverly, Va. – 92.3
Williamsburg, Va. – 100.1
Winchester, Va. – 102.1
Woodbridge, Va. – 89.7
Wytheville, Va. – 100.9
Enfield, N.C. – 107.3
Norlina, N.C. – 94.3
Roanoke Rapids, N.C. – 91.1
Zebulon, N.C. – 90.5
About Liberty University
Liberty University, founded in 1971, is the largest private, nonprofit university in the nation, the largest university in Virginia, and the largest Christian university in the world. Located near the Blue Ridge Mountains on more than 7,000 acres in Lynchburg, Va., Liberty offers more than 450 unique programs of study from the associate to the doctoral level. More than 200 programs are offered online. Liberty's mission is to train Champions for Christ with the values, knowledge, and skills essential for impacting tomorrow's world.