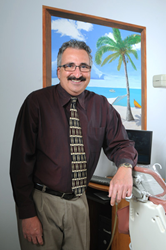 Monroe, CT (PRWEB) February 16, 2015
Dr. Richard Amato, a leading Monroe, CT periodontist, announces that his practice shall now be known as the Advanced Periodontics and Dental Implant Center of Connecticut, LLC. In addition to a new name, Dr. Amato's practice has also grown in size. A recent office expansion has increased the practice's working space by over 50 percent so patients can receive treatment, such as LANAP® therapy, in comfort. Although the name and look of his practice has changed, Dr. Amato is still dedicated to offering the highest quality periodontal services in Connecticut, and welcomes patients from the surrounding areas of Trumbull, Newtown, Shelton, Bridgeport and Fairfield.
Dr. Amato aims to serve all patients in need of a periodontist in the Monroe, CT area. By expanding his practice, the doctor hopes to be able to better serve his existing patients while still allowing him to see new patients who also need his assistance. The expansion included two new themed treatment suites and a spa room, each of which are used to decrease patient anxiety. The spa room is particularly aimed at those who feel a great deal of stress when receiving dental treatment. Dr. Amato's goal is to make the treatment process as easy as possible for everyone, whether they are receiving LANAP® therapy or dental implants.
The doctor hopes that the practice's name change will more accurately reflect the services and procedures that he provides to patients on a daily basis. These services include LANAP® therapy, Piezosurgery®, the Chao Pinhole Surgical Technique™, guided implant placement and other common periodontal procedures and treatment options. Additionally, the practice also offers sedation dentistry in order to allow all patients the chance to undergo treatment in a relaxing setting without fear. The office will continue to accept the same insurance plans as before, and their financial policies have not changed with the recent alterations to the practice.
Those who are in need of a periodontist in Monroe, CT are invited to visit Dr. Amato's website or to schedule a consultation to learn more about him and his newly named and recently expanded practice. With more treatment space and a more accurate name, Dr. Amato hopes to continue to restore many more smiles in the future.
About the Doctor
Dr. Richard Amato is a periodontist and dental implant specialist who provides personalized dental care using the most advanced technology for patients in Monroe, Connecticut. He has placed thousands of dental implants since 1989. Dr. Amato earned a DDS degree from Stony Brook University. He then completed a full time multi-year specialty residency and received his Certificate of Proficiency in Periodontics from Eastman Dental Center at the University of Rochester. He belongs to the one percent of dentists in the USA currently providing the first FDA-cleared laser procedure for gum disease treatment. Dr. Amato is the first and most experienced provider of LANAP® therapy in Fairfield County, Connecticut as well as the only Periodontist to provide the Pinhole Surgical technique in CT. To learn more about Dr. Amato and his dental services, visit his website at http://www.connecticutperiodontist.com and call (203) 712-0917.