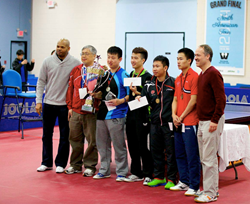 (PRWEB) February 09, 2015
This past weekend, from February 6th-8th, JOOLA sponsored the North American Tour Grand Final hosted by the Westchester Table Tennis Center in Pleasantville, New York. The event kicked off with a party for the players and a warm welcome speech from Peter Scherer, the mayor of Pleasantville.
JOOLA provided two pristine JOOLA 2000-S table tennis tables and barriers for the tournament. Over the two-day tournament, sixteen elite champions from the 2014 North American Tour battled it out for cash prizes totaling over $10,000. If you missed the live stream or just want to watch it again, visit USATT for all the video coverage. Semifinalists Yonghui Liang and Xiang Jing Zhang were each awarded $850. Eugene Wang (7th seed), defeated Bob Chen (4th seed) for the winner's title and a grand prize of $3,500. Although they are close in USATT rating and evenly matched, Eugene Wang, age 29 from British Columbia, Canada, pulled out ahead in the 7th and final game against Bob Chen, age 21, from Milpitas, California, who took second and went home with $1750. Spectators and fans came from all over North America to watch this first ever Grand Final. With growing success, expect the North American Tour Grand Final to become an annual event in years to come.
More About JOOLA
JOOLA was first established in Germany in the 1950s and quickly became a leading manufacturer of table tennis equipment. It gained international recognition by sponsoring several World Championships, and eventually became the table sponsor for the 1996, 2000, and 2004 Olympics. In 2006, JOOLA emerged onto the US table tennis scene with a vision to promote the sport of table tennis by providing the highest quality table tennis equipment for the basement to world champion player. JOOLA values its customers and relies heavily on customer feedback to create a wide variety of table tennis rackets, apparel, tables, and accessories for players of all levels, both professional and recreational. Today, JOOLA sponsors some of the world's most elite table tennis professionals and is proud to be the official sponsor of the US National Team as well as the official table sponsor for the US Open and US National Championships. Partnering with USA Table Tennis (USATT), the national governing body for table tennis, North American Table Tennis (NATT), and the National Collegiate Table Tennis Association (NCTTA), JOOLA has grown its fan base to become the most visible brand in US table tennis.