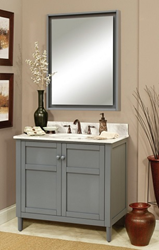 Gray, shaker style bathroom vanities are elegant without feeling stuffy, and simple and streamlined without being stark and featureless.
(PRWEB) February 24, 2015
HomeThangs.com – the Online Home Improvement Store has made their goal to deliver the right product to the consumer. With that in mind, shopping and home design tips, as well as special product selections are being introduced.
One of the biggest bathroom trends this year is also one of the most unusually specific: gray shaker style bathroom vanities. But this odd pairing is actually a natural extension of two larger trends this year: the renewed popularity of shaker style cabinets and the growing use of gray in place of more traditional brown-based neutrals. What's really made this look take off, though, is just how flexible it is in terms of pairing with different bathroom styles. HomeThangs.com has introduced a guide to a few of the best ways to customize this look for any bathroom.
The simplicity of shaker style cabinets alone makes them easy to pair with many different bathroom styles. Because they're made up of such basic straight lines and angles, they can work well in a contemporary space, but because the style is technically traditional, they can work in more old fashioned bathrooms as well. And simply altering the layout of the vanity – by adding taller legs, reorganizing the layout of the cabinets, or adding subtle embellishments to the cabinet – can also dramatically change its appearance. Add to that the fact that gray comes in a huge variety of shades and base tones, and it's very easy to change the overall look and feel of the cabinet simply by choosing a subtly different shade.
For more thoughts on this unique new trend, check out the full article here.
HomeThangs.com is not only a home improvement superstore, it also provides expert design tips and a comprehensive shopping guide, taking the ideas from professional interior designers, and offering tips to the consumers on how to pick the products to best suit their needs.