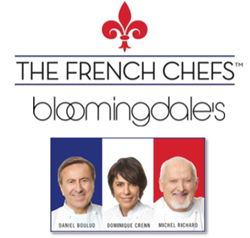 I wish I could be in every kitchen and see the influences of the 'The French Chefs.'
Chicago, IL (PRWEB) February 10, 2015
On the heels of its unveiling before one of the world's most prestigious industry gatherings, a new kitchen-to-table concept in dining and entertaining is rolled out to the public, "The French Chefs," a brand meticulously crafted with the talents of three of France's most acclaimed chefs.
The public gets its first look at "The French Chefs" line on March 9 at the Bloomingdale's Medinah store in downtown Chicago. Award-winning chefs Daniel Boulud, Dominique Crenn and Michel Richard will be on hand to reveal how they influenced a brand that offers Americans the ultimate European culinary and dining experience.
The Bloomingdale's special public event immediately follows a sneak peek of "The French Chefs" line to the assembled media at the International Home and Housewares Show at McCormick Place in Chicago.
"Each chef has his or her sense of individuality, and that made it thrilling for me to be a part of this," said Daniel Boulud.
Dominique Crenn said, "I wish I could be in every kitchen and see the influences of the 'The French Chefs.' "
Michel Richard noted that "until now, there has been nothing else available to family kitchens that can enhance the experience of preparing and serving great dishes like these pieces."
"The French Chefs" at Bloomingdale's Medinah Store
WHEN: March 9, 2015 Time: 5-7 p.m. Main floor street level
WHERE: Bloomingdale's, 600 North Wabash Ave downtown Chicago. b/t Ohio St & Ontario
WHO: World-renowned chefs Daniel Boulud, Dominique Crenn and Michel Richard introduce to the public "The French Chefs" brand of stainless steel cookware, porcelain bakeware, rattan-enhanced serving pieces and artistically accented porcelain dinnerware
WHAT: Cooking Demo –meet & greet and charitable giving. Chicago non profit Common Thread has partnered with French Chefs for this special product launch event.
*Note to Editors, Reporters and Assignment desks – the French Chefs are available for interviews. Media liaison Robb Leer can make coordinating and scheduling easy and hassle free. Connect with Robb at 612.701.0608 or email Robbl(at)leercommunication(dot)com.
About "The French Chefs"
This breakthrough cooking, dining and serving collection is born from the culinary mastery and lifelong experiences of French chefs Daniel Boulud, Dominique Crenn and Michel Richard. The line includes five-ply stainless steel cookware, porcelain bakeware, rattan-enhanced serving pieces and artfully edged white porcelain dinnerware. The mission of this collaboration is simple: Designed by experts so you can cook and entertain like a master. Learn more at http://www.thefrenchchefs.com.
About Common Threads
The mission of Common Threads is to educate children on the importance of nutrition and physical well-being, and to foster an appreciation of cultural diversity through cooking. Common Threads delivers culturally-relevant, family-centric cooking and nutrition curriculum for kids in underserved schools and communities that results in life-long healthy eating habits.
About Bloomingdale's
Bloomingdale's is America's only nationwide, full-line, upscale department store and a division of Macy's, Inc. It was founded in 1872 and currently operates 34 Bloomingdale's stores and 13 Bloomingdale's, The Outlet Stores in New York, New Jersey, Massachusetts, Pennsylvania, Maryland, Virginia, Illinois, Georgia, Florida, New Hampshire, California, and Texas. In addition, Bloomingdale's has an international presence with a location in Dubai. Be sure to follow @bloomingdales on social media, become a Loyallist, and for more information, or to shop any time, visit http://www.bloomingdales.com.
# # #