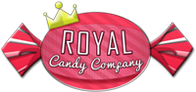 Mount Laurel, NJ (PRWEB) February 10, 2015
Love is in the air and what better way to show it than giving that special someone a sweet treat to enjoy or a delectable gift to devour. Don't get into a sugar rush! It's not too late to get a favorite candy for a special Valentine. Royal Candy Company has everything needed to keep the loves in life happy.
Headquartered in Mount Laurel, NJ, online retailer Royal Candy Company, offers a huge variety of Valentine's Day themed items that will make this special day fill with love. Whether it's sending a significant other a bouquet of chocolate roses or favorite little ones Frozen themed gift boxes, Royal Candy Company has what you need to keep everyone feeling full and warm with affection.
This year plans to be a bigger year than ever for candy. It's no surprise that candy is the gift most often given on Valentines Day at a staggering 47.5% according to statisticbrain.com*. Consumers will never run out of options or not be able to find what they need with their thousands of products, multiple product lines and the ease of their online shopping experience & live chat support service.
From boxes of chocolate to heart-shaped candies, the message is always clear, candy is the gift of happiness. That gift doesn't have to be expensive, Royal Candy Company offers competitive low pricing so there is more time to spend with loved ones instead of spending more money.
Americans have a serious sweet tooth. According to the National Confectioners Association, about eight billion candy hearts were made in 2009. That's a lot of love. So spread sweet sentiments this day by turning to Royal Candy Company.
Visit here to view Royal Candy Company's full selection of Valentine's Day candy.
About Royal Candy Company
Royal Candy Company of Mount Laurel, NJ has been delighting customers since 1990 with its stellar customer service and by selling only the highest quality candy at the lowest prices. Offering a wide selection of bulk candy, chocolates, wrapped and unwrapped candy, novelty candy, candies by the color, sugar-free candy and more, ensures Royal can satisfy almost any sweet tooth throughout the continental US and Canada.