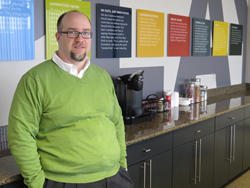 Rob's ability to bring a broad perspective to complex situations will greatly enrich our team
Troy, MI (PRWEB) February 10, 2015
Billhighway, provider of cloud-based automation solutions for nonprofits, has just increased headcount with the addition of Robert Romanczuk in the role of Implementation Consultant. Billhighway's implementation team focuses on continuing to improve project execution capabilities and driving additional value for clients.
Romanczuk is a program management professional (PMP) with over 15 years of technical experience in a variety of industries. In his new role, he will manage client implementation projects and measure the effectiveness and efficiency of internal operations processes. Romanczuk was previously a project manager at DSA Systems, Inc., where he was responsible for project management, resource planning and maintaining client relationships. He held similar positions at JobApp Network and Modis.
"We are excited about the project management experience that Rob brings to our team," said John Schelske, Chief Operating Officer at Billhighway. "Our implementation projects require our team members to have a strong understanding of process, technical and cultural dimensions. His ability to bring a broad perspective to complex situations will greatly enrich our team."
Romanczuk is PMP certified, a member of the Project Management Institute (PMI), and holds a Master of Science degree in Program and Project Management from the University of Michigan. He earned his Bachelor of Science in Information Technology from the University of Phoenix.
About Billhighway (http://www.billhighway.co)
Billhighway, headquartered in Troy, Michigan, develops cloud-based automation software that makes nonprofit financial management easier. Since 1999, we've helped our clients free up internal resources and focus more time on mission by increasing revenue, cash flow and the bottom line. Through a robust, rules-based engine that integrates payment processing, banking and accounting with existing systems, Billhighway provides a transparent, holistic view of your organization's finances so you can work smarter, not harder. Billhighway is recognized for award-winning customer service and industry-leading data security.
(###)