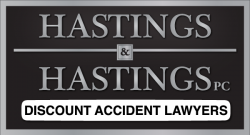 Phoenix, AZ (PRWEB) February 12, 2015
Hastings and Hastings, a law firm in the Phoenix Metropolitan area announce that they are heading into 2015 with a record increase in web based lawyer contact form submissions. As a consumer law firm in Arizona with more than 30 years of dedicated service, Hastings and Hastings features a state-of-the-art website that was recently updated and revised. The firm has seen considerable increases across the board with regard to the site's web based lawyer contact form interface. The online form is intended to make the task of contacting an attorney in Arizona who is focused on personal injury easy and convenient. The firm has stated that it is delighted with the amount of response the online form is making possible.
Hastings and Hastings is a Phoenix Arizona personal injury law group that is known for taking advantage of the latest technology when it comes to its Internet presence. As such, the firm has implemented a simple and easy to use contact form on the website so that prospective clients can easily use the Internet to contact a personal injury lawyer. Most importantly, the firm remains proactive and responsive when it comes to replying to injury victims who have contacted the firm through the website. Hastings and Hastings recently commented that the firm, in 2014 did a complete rework of its website to make it more intuitive, easy to use and easier to navigate. This has resulted in better communication with prospective clients in all of the 11 Hastings and Hastings law offices throughout the greater Phoenix metropolitan area.
With decades of experience in the industry, the firm has handled virtually every type of accident and incident that is likely to occur. From motorcycle type accidents to automobile accidents and truck accidents as well as bicycle accidents and pedestrian accidents, Hastings and Hastings has a deep understanding of personal injury law and in dealing with insurance companies as a way to improve the chances of a favorable recovery for clients. Equally impressive is the fact that the firm has an aggressive and well-established discount fee structure that is made available to each and every client. This innovative discount fee structure has in essence saved clients millions of dollars over the last decade alone.
Hastings and Hastings is proud to be able to leverage the modern Internet and all that it offers to make personal injury law easier and more convenient for those who been injured due to the negligence or errors of another individual or company. Bringing to the table decades of experience and a reputation that speaks for itself, Hastings and Hastings has helped countless clients recover losses as a way to ease the burden when it comes to medical expenses and lost wages. This recent announcement with regard to a record increase in web based lawyer contact form submissions is one more clue that Hastings and Hastings will continue to provide focused and dedicated legal representation to victims of accidents throughout Arizona.
Hastings and Hastings is a leading provider of discount personal injury legal services located in and serving the greater Phoenix Metropolitan area. This respected legal firm specializes in assisting individuals that have been the victim of serious injuries that have resulted from accidents that were not fault of their own. Hastings and Hastings is a trusted group of attorneys that deliver personalized service and guidance for injury victims throughout Phoenix and all across the state of Arizona. Hastings and Hastings is known throughout legal circles as a dedicated team of professionals and a law firm that has been representing accident victims throughout Arizona for decades. Hastings and Hastings has consistently exceeds client's expectations with regard to representing a wide array of accident related injury victims at times when it matters the most and always doing so with discount attorney's Fees.