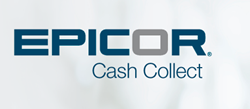 Chardon, Ohio (PRWEB) February 10, 2015
Today e2b teknologies, an Epicor Alliance Partner and publisher of Epicor Cash Collect, announced that adoption of the popular A/R management module for Epicor ERP continues to grow significantly with the introduction of new features and deployment options. Both current and prospective customers using Epicor ERP have found Epicor Cash Collect to be an invaluable tool to help them better manage their accounts receivable process to reduce bad debt write-offs and outstanding accounts receivable.
Epicor Cash Collect is a cloud-based A/R management solution that extends the Epicor ERP accounts receivable features to automate the many steps involved in managing and collecting invoices. For example, the software automates customer communications such as statements, reminder letters, past due notices, dunning letters, and retransmission of invoices. The software also creates a prioritized action list for collectors so they know who to call, when, and why – with all of the information they need at their fingertips to be more productive and effective in their daily tasks. Additional tools and features allow users to review communication history, financial transactions, contacts, recent payments, and other information with just a few mouse clicks. More information about Epicor Cash Collect features and deployment options is available here.
"Getting paid and increasing cash flow is critical for any company and collecting invoices on time is tough no matter what industry they operate in," said James Mallory, Director of Marketing at e2b teknologies. "More and more companies are realizing the benefits of enhancing the A/R functions within Epicor ERP with accounts receivable automation. For example, a customer recently reported that after only one year of utilizing the tools in Epicor Cash Collect, they were able to reduce their days sales outstanding by 40% -meaning they were getting paid 27 days faster! This is exactly what the software was meant to do and we are thrilled to see such success across its growing and diverse client base."
Recent Epicor Cash Collect sales represent a diverse cross-section of Epicor ERP customers including:

Texas-based manufacturer of tools and tooling
Global manufacturer and distributor of specialty ball and bearing products
International manufacturer of commercial and industrial mixers
New England instrument manufacturer
Large logistics and transportation provider
Global manufacturer and distributor of plumbing products
New England manufacturers of hose and tube products
Specialty tube distributor serving the Eastern USA
Midwest manufacturer of fabricated metal products
Media rights non-profit organization
National cold storage, transportation, and logistics company
About Epicor Cash Collect
Epicor Cash Collect is an integrated accounts receivable management module published by e2b teknologies for Epicor ERP providing automated customer communication, prioritized activity lists, and customized templates to streamline every aspect of the accounts receivable, credit, an collections process helping companies get paid a lot faster and easier with an average return on investment in as little as two months.