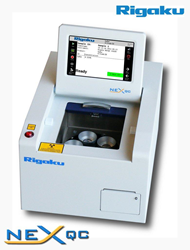 (PRWEB) February 10, 2015
Applied Rigaku Technologies, Inc. announces the publication of a new application report covering the measurement of lead (Pb) in gasoline according to ASTM D5059-14, "Standard Test Methods for Lead in Gasoline by X-Ray Spectroscopy using energy dispersive X-ray fluorescence (EDXRF) spectrometry." The report describes the performance of the Rigaku NEX QC EDXRF spectrometer, a benchtop analyzer for rapid qualitative and quantitative elemental analysis.
Almost all countries worldwide have stopped adding lead to gasoline. Those still using small amounts are expected to completely phase it out in the coming years. Historically, regular gasoline typically contained up to 4.0 grams of lead per gallon. Currently, "unleaded gasoline" is allowed to contain no more than 0.05 grams of lead per gallon.
ASTM D5059-14 Test Methods A and B cover the range of 0.10 to 5.0 g Pb/US gal. Test Method C covers the range of 0.010 to 0.50 g Pb/US gal. For the analysis described in the report, the empirical calibration was built to cover 0.0013 – 0.1321 g/L (0.0049 – 0.50 g/US gal) to satisfy D5059 Part C using a suite of eight commercially available certified gasoline calibration standards.
Instrument precision was determined by ten repeat analyses of each sample in static position using a 300 second analysis time for each measurement. The Lower Limit of Detection (LLD) is defined as three times the standard deviation of 10 repeat analyses of a gasoline sample containing no lead.
The results shown in the report indicate that the Rigaku NEX QC analyzer can be used to satisfy ASTM D5059-14 Part C. Given higher-level calibration ranges, parts A and B can also be met.
For even greater measurement precision and lower limits of detection, the Rigaku NEX QC+ analyzer employs next generation silicon detector technology, and for the highest sensitivity in more difficult samples, the Rigaku NEX CG Cartesian geometry EDXRF spectrometer can also be used to satisfy ASTM D5059, delivering maximum trace level sensitivity.
Copies of the reports covering this test method for measuring lead in gasoline for each of the aforementioned EDXRF instruments are available here.
About Rigaku:
Since its inception in Japan in 1951, Rigaku has been at the forefront of analytical and industrial instrumentation technology. Rigaku and its subsidiaries form a global group focused on life sciences and general purpose analytical instrumentation. With hundreds of major innovations to its credit, Rigaku and its subsidiary companies are world leaders in the fields of small molecule and protein crystallography, X-ray spectrometry and diffraction, X-ray optics, as well as semiconductor metrology. Rigaku employs over 1,100 people globally and its products are in use in more than 70 countries – supporting research, development, production control and quality assurance activities. Throughout the world, Rigaku continuously promotes partnerships, dialog, and innovation within the global scientific and industrial community For further information, contact:
Scott Fess
Product Manager
Applied Rigaku Technologies, Inc.
tel: +1. 512-225-1796
info(at)RigakuEDXRF(dot)com