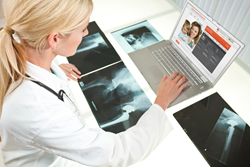 We are seeing a big push from healthcare providers now because the industry in the United States is undergoing a transformation.
Los Angeles, CA (PRWEB) February 11, 2015
It was not that long ago that Telemedicine initiatives were being launched by a single healthcare professional or doctor who was passionate about early adoption of the technology and the way that video could deliver benefits to both the patient and their organization. Now, the desire for Telemedicine has moved beyond isolated healthcare professionals and is rapidly seeing adoption across large and small healthcare provider organization.
A new white paper, "Digital Healthcare Provision Goes Mainstream" explorers just some of the trending data and evidence of the Telemedicine technology revolution underway.
Download a complimentary copy of the white paper here.
"We are seeing a big push from the provider side now because the healthcare industry in the United States is undergoing a transformation," says Dave Skibinski, co-author and President and CEO of SnapMD. "Healthcare reform, the needs of an aging population, the ever growing challenge in treating chronic conditions and the vast number of uninsured Americans leaves the industry at an inflection point. Telemedicine is going to be are part of this transformation. It's not a silver bullet to our problems, but it is a significant tool that providers can add to their tool box."
"Innovative leadership also drives Telemedicine adoption in the United Kingdom. Just as in the United States, most pilots have been initiated at the local level," says co-author and Tiger Hill Healthcare CEO, Indranil Ghosh, "With that said, Telemedicine programs succeed when there's a collaborative relationship between national and local health authorities. There are great efficiencies to be captured from shifting consultations for chronic diseases such as diabetes and COPD onto a secure, online video format that patients can access from a mobile device. Many follow-up consultations after an acute hospital visit can also be delivered successfully by Telemedicine. This not only increases patient convenience but improves the utilization of scarce medical specialists."
Download a complimentary copy of the white paper, "Digital Healthcare Provision Goes Mainstream"
About SnapMD
SnapMD is a leader in private-label Telemedicine cloud-based software. The company provides a robust HIPAA compliant communications platform developed to enable healthcare providers to directly engage patients. The SnapMD platform furnishes secure one-on-one live video, audio and text consultations between ambulatory patients and their primary care and specialty care physicians. Using SnapMD, healthcare providers can conduct on-demand virtual consultations to reduce avoidable visits to the emergency department, schedule and conduct follow-up consultations for patients undergoing active treatment, provide remote medical services such as in-school virtual clinics and physician-to-physician consultations. With SnapMD Telemedicine technology, healthcare providers have another powerful tool to help them find efficiencies in personnel utilization while continuing to deliver quality care. For more information, please visit http://www.snap.md
About Tiger Hill Healthcare
Tiger Hill Healthcare (THH) is a global business-building firm that partners with disruptive, high-growth companies in digital healthcare. THH is led by Dr. Indranil Ghosh, Mr. Olivier Jarry and Ms. Michele McHugh-Mazatta – three highly experienced executives with over 70 years of cumulative track record in leading pharmaceutical, medical device, and healthcare investing firms. With a footprint extending across North America, Europe, Middle East and India, THH is well-placed to act as an growth acceleration partner to innovative healthcare companies with global potential. Tiger Hill Healthcare is part of the Tiger Hill Capital group. More information can be found on http://www.tigerhillcapital.com