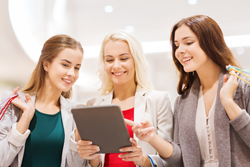 Our strong partnerships, retail sector experience and outstanding multi-site track record are paying off in the expansion our retail IT business.
Hoboken, New Jersey (PRWEB) February 10, 2015
eMazzanti Technologies, a New York City area IT expert, computer consultant and Microsoft Partner of the Year, today announced record-breaking growth in the retail information technology segment for the three years ending December 31, 2014 with revenues up 200% for the period. Overall, the firm has seen thirteen consecutive years of double-digit growth since the company's inception in 2001.
CEO, Carl Mazzanti, attributes the company's remarkable performance in the retail IT segment to a relentless focus on customer service, expanding retail IT expertise, the progressive application of emerging retail technologies to enhance the customer experience, and a data security-first mindset.
"Emerging retail technology, like mobile POS and personalized customer experience solutions make this an exciting market segment for us," stated Mazzanti. "Our strong partnerships, retail sector experience and outstanding multi-site track record are paying off in the expansion our retail IT business."
Retail IT Solution Growth
eMazzanti has seen an accelerating increase in retail solution revenue, including infrastructure and network security services for multi-site retail chains. Retailers are adding real-time omni-channel capabilities in cloud SaaS based environments, and PCI compliance technologies.
Looking to sustain retail revenue growth, the company is exploring emerging technologies like digital mirrors, electric price labels, smart carts and customer recognition systems for retail customers. All of these technologies depend on a reliable and secure network infrastructure, eMazzanti's bread and butter. Strategic additions to eMazzanti's retail IT sales and consulting staff in 2014 will continue to push revenue growth.
Retail Data Security
In the face of increasing retail data security threats, eMazzanti is providing innovative security breach protection for clients' sensitive customer data with a range of WatchGuard Technologies' network security appliances and solutions, continually monitored and updated through eMazzanti's eCare service offering. PCI compliance and other retail data security solutions are expected to grow, especially with the Chip & Pin/EMV requirements in 2015.
KWI Retail Technology Partnership
Through a strategic partnership with KWI, the industry-leading cloud solutions provider to the specialty retail sector, eMazzanti continues to provide network infrastructure and data security solutions to support the KWI Enterprise-Class cloud platform and KWI Cloud 9 Mobile POS platform.
"With eMazzanti building infrastructure for our customers we just set it up and forget about it. Providing worry-free IT is where eMazzanti shines," stated Gary Brill, Vice President of Business Development, KWI.
Enterprise-class retailers utilize the KWI platform to optimize POS, merchandising, Omni-channel, allocation and replenishment, operations, CRM and loyalty programs. By adding the KWI Cloud 9 Mobile POS, retailers capitalize on its real-time retailing, customer and product lookup and omni-channel fulfillment capabilities to deliver significant sales growth, increased units per transaction and enhanced customer experience.
One of KWI's mobile retailers had 74% of their transactions rung up on mobile and experienced an 11% increase in units per transaction with a 10% increase in average dollars per transaction versus their traditional POS in the same stores.
eMazzanti's PCI compliance, business continuity, and IT security services protect KWI's always-on, Omni-channel retailing platform at hundreds of retail stores. With reliable network and POS infrastructure from eMazzanti, KWI realizes on-time store openings, promoting predictable schedules and smooth operations. No-worry IT infrastructure provides a reliable and worry-free platform for KWI's retailers as they focus on opening stores and meeting dates.
"eMazzanti is proud to provide the network infrastructure for KWI's retail mobile cloud technology, which helps customers quickly execute their Omni-channel strategies with mobile POS in the cloud," stated Mazzanti. "KWI's real-time retailing and omni-channel capabilities make them a dynamic partner with a significant growth potential."
Pandora Jewelry
Pandora Jewelry, one of eMazzanti's larger retailers with nearly 300 stores, attributes KWI's mobile platform in their stores, supported by eMazzanti's scalable and secure advanced technology infrastructure, to higher customer engagement.
"We have been working with eMazzanti for years now and their trustworthy partnership has been invaluable. A million thanks on behalf of POS Support at PANDORA Jewelry – North America!" Retail Project Coordinator, Pandora Jewelry.
Other related resource information:
eMazzanti Technologies Boosts Retail Fashion Industry Expertise
International Retailer Wows Customers with In-store Technology Solutions from eMazzanti
About eMazzanti Technologies
eMazzanti's team of trained, certified IT experts rapidly deliver cloud and mobile solutions, multi-site implementations, 24×7 outsourced network management, remote monitoring and support to increase productivity, data security and revenue growth for clients ranging from professional services firms to high-end global retailers.
Serving more than 400 Hoboken, NJ, NYC area and international customers, eMazzanti is Microsoft's 2012 Partner of the Year and 2013 Northeast Region Partner of the Year, a 5X WatchGuard Partner of the Year and has made the Inc. 5000 list five years running. Contact: Carl Mazzanti 201-360-4400 or emazzanti.net Twitter: @emazzanti Facebook: Facebook.com/emazzantitechnologies.
Download the free article: How to Select an IT Provider here.