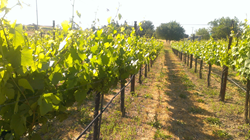 Napa Valley, California (PRWEB) February 10, 2015
Own A Napa Vineyard http://www.ownanapavineyard.com announced today that with the purchase of a vineyard (2 vines) he/she will get a Elite Membership in the Carneros della Notte Winery's (CDN) Vine Club.
Founded in 2003, Carneros della Notte is a boutique winery owned and operated in the Carneros region of Napa Valley, California.
Along with the vineyard benefits each owner will receive:

Discounts on Carneros della Notte wines
Etched wine bottles services
Opportunities to have their own private label wines
An invitation to the estate's Annual Night Harvest Party
Membership is available to 21 years and older
Check out http://www.ownanapavineyard.com. For all other details and media inquiries, contact David L. Harmon, III, at dharmon(at)pinotnv(dot)com or 707-495-2464.
About David L. Harmon III
Before David Harmon founded and sold the famed wine.com website, he had a colorful past right out of a reality TV show. His animated life is filled with anecdotal stories that captivate his customers at his rustic, but intriguing winery, Carneros della Notte (Carneros of the Night). Harmon tells tantalizing true tales, from when he was Robert Mondavi's first chauffeur and helicopter pilot, to flying for the Indianapolis Colts, or working on movies like Thelma and Louise, Black Rain and Basic Instinct or working with the latest pop or rap star.