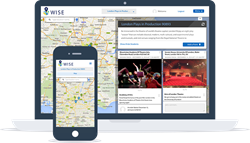 USD is committed to developing globally aware students through enhanced learning experiences such as studying abroad and providing them with access to innovative technology. Imagine not just reading about a foreign place, but immediately having access to
San Diego, CA (PRWEB) February 10, 2015
February 2015, the University of San Diego (USD) will be launching the World Interactive Study Environment (WISE), the first-ever interactive learning platform that allows students and professors to connect classroom concepts with real world discoveries through photographs, videos, interactive conversations and comments all occurring in real time. WISE is the first of its kind to leverage the latest maps technology to enable students and professors to apply classroom concepts directly to the real world, thereby adding a completely new dimension to higher learning.
USD Provost and Vice President Andrew T. Allen stated, "USD is committed to developing globally aware students through enhanced learning experiences such as studying abroad and providing them with access to innovative technology. Imagine not just reading about a foreign place, but immediately having access to students' experiences who have been there or a professor's unique and personal comments and pictures about that location all in one cohesive platform."
The University of San Diego is not new to social learning or innovation. USD has been recognized as a "Changemaker Campus" by Ashoka, the global association of the world's leading social entrepreneurs. As a Catholic institution, USD has been committed to global learning, liberal arts, formation of values and the creation of ethical leaders since 1949. The University enrolls more than 8,300 undergraduate and graduate full-time students from all over the world.
Avi Badwal, Sr. Director of Enterprise Technologies at USD, who oversaw the development of the WISE platform commented that, "We set out to build a study environment that increased student engagement by connecting them directly with people, places, and things in their global environment and in the process brought classroom concepts to life. WISE is a new tool that will provide our faculty and students with the ability to teach and learn in a completely new way, and we are all excited about it."
WISE encourages student engagement and interaction with course material in the real world and in real time. At a glance, educators can see what their students are most interested in, and help everyone gain a more robust and well-rounded educational experience, both on and off campus, as well as abroad. Additionally, educators and students alike can spot trends in learning, attitudes, and thoughts across semesters and even years. For more information visit: http://sandiego.edu/wise.
Chris Wessells, Vice Provost and Chief Information Officer at USD notes that, "Student engagement across disciplines has been increasingly challenging in higher education, especially connecting the complexities of classroom concepts with today's millennials who are tethered to their mobile devices." Wessells believes that, "WISE is truly a game-changing solution that directly addresses and overcomes that challenge."
WISE is built on the latest geospatial technologies to allow for location-based learning. For example, students can visit Shakespeare's home at Stratford-upon-Avon and immediately receive messages from peers, professors or students who have previously visited the location. Badwal explains that, "Aside from the traditional methods of learning in a classroom, with WISE, we are able to add another metric to assessing student learning based on rich real time communication such as images, comments, and real life experiences. Students can take photos and videos with their smartphones, log onto WISE, pin the location they visited, upload a photo to that pin, have interactive conversations and add their insights and comments all in real time."
"Just imagine the worlds of medicine, engineering, peace studies or international business sharing real-time, location-based data with each other," said Wessells. He added "the power of sharing this kind of knowledge not only takes education to a whole new level of learning, but it also could greatly influence the way people can share key insights tied to a physical location over time, and improve meaningful connections and global change-making as a result."