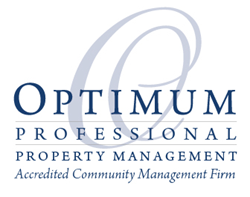 "There is no other manager more deserving of this award, and we are extremely proud of Will's accomplishments over these last two years with Optimum"
Tustin, CA (PRWEB) February 11, 2015
Optimum Professional Property Management, Inc. (ACMF), a full service community management company located in Orange County, California, is proud to announce Will Fabing, CMCA winner of the Community Associations Institute Orange County Chapter Awards in Excellence Manager of the Year Award in the Rookie Category.
"There is no other manager more deserving of this award, and we are extremely proud of Will's accomplishments over these last two years with Optimum," states Shannon Thornhill, Director of Association Management, "Will has proven to be a great asset to Optimum's team and its clients."
Will was awarded the Manager of the Year Award which is presented to portfolio managers and on-site managers who have exhibited and supported the value of education and ethics in the industry and have shown dedication to the industry, their company, clients and CAI.
Optimum is also pleased to announce Gabriel Garcia, CMCA and Morgan Winegar were also nominated for CAI-OCRC Awards in Excellence. Gabriel was nominated for the Manager of the Year Award in the Veteran Category and Morgan was nominated for the Innovative Management Award.
Additionally, Optimum is proud to announce Board Member Pat Phelan of South Coast Shores Community Association was awarded the Community Association Board Member of the Year Award in the Veteran Category, which is an award that is presented to Board Members who have made a significant contribution to the Association and promote a sense of community. "Mr. Phelan continually goes above and beyond with passion and integrity but most of all empathy for all the members in the community", says Debra Kovach, CEO of Optimum Professional Property Management, Inc. "We could not be happier to partner with Mr. Phelan and the South Coast Shores Board."
About Optimum
Optimum Professional Property Management, Inc. (ACMF®) was formed in 1996, to specifically meet the increasing need for professional community association management. We are committed to providing our clients with a solution based approach to management paying special attention to detail and offering exceptional service comparable to on-site management. For more information, visit us at http://www.optimumpm.com.
About CAI:
An international organization dedicated to building better communities, CAI provides education and resources to community association homeowner leaders, professional managers, association management companies and other businesses and professionals who provide products and services to community associations.
Their mission is to inspire professionalism, effective leadership and responsible citizenship, ideals reflected in communities that are preferred places to call home.