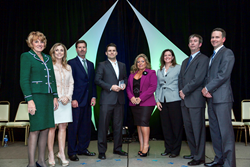 A lot of great companies and fantastic CEOs were nominated for this award. To me, this is actually more of a win for my employees as well as for the Downtown San Diego business community.
San Diego, California (PRWEB) February 10, 2015
This year the San Diego Business Journal (SDBJ) received a record number of entries for the program, with 131 finalists vying for an award on January 28, 2015. Winners were selected by an independent panel of judges, ranking nominations based on CEOs' contributions to their companies and the community, with an emphasis on innovation, leadership, and financial growth. As the CEO of Underground Elephant, Jason Kulpa was exemplary on all fronts in 2014.
SDBJ highlighted Underground Elephant's financial achievements under Jason's leadership, including the company's three consecutive appearances on the Fastest Growing Private Companies list, a 1,275% five-year growth rate, as well as ranking as the largest advertising agency—and 34th largest privately-held company—in San Diego. On the national stage, Inc. 5000 is an exclusive ranking of the nation's fastest-growing private companies. Underground Elephant ranked #695 on the Inc. 5000 list—and #13 in San Diego—with a three-year growth rate of 659%.
Underground Elephant's rapid growth is being bolstered by the continued diversification of products and services, including the national rollout of an innovative lead marketplace. Such financial growth and diversification has driven substantial job creation as well. Jason expanded the Underground Elephant team from 20 employees in 2009, to 60 in 2011, and now to 100 in 2015.
Year over year, these milestones are reached because of Jason's uncanny ability to inspire innovation and teamwork. In addition to exceptional benefits and countless perks, all Underground Elephant employees are part of a Stock Option Bonus Program, incentivizing unparalleled performance and collaboration across all business units—an invaluable benefit to employees, the company, and its Fortune-1000 clients. In addition to expanded financial opportunities for his employees, their personal development is fundamental to Jason as well, and that is why he enlisted the help of boxing's three-time world champion, Paul Vaden. Now the company's Champion in Residence, Paul provides regular mentorship and training to all Underground Elephant employees.
Commitment to the community is one of Underground Elephant's core values, and Jason has led by example. Jason sits on the boards of the Downtown San Diego Partnership, Connect.org, and the San Diego Humane Society. He is a member of the San Diego Police Foundation, the San Diego Regional Chamber of Commerce, the Young President's Organization, and the Young Entrepreneur Council. He is also an active supporter of the San Diego State Athletics program. Thanks to Jason's unwavering commitment to fostering a truly progressive company culture, Underground Elephant was named one of the Top-10 Coolest Companies to Work For in San Diego by O.C. Tanner, the Top-10 Best Places to Work in San Diego by SDBJ, and the 101 National Best and Brightest Companies to Work For.
Jason's personal values have also inspired employee-led programs within Underground Elephant, including an initiative called Serving Those Who Serve Our Community. The company's partnerships with local community organizations—including Make-a-Wish San Diego, the American Red Cross, Feeding America, Operation Home Front, Habitat for Humanity, The Monarch School, the San Diego Police Foundation, and the Humane Society—compelled the American Business Awards to chose Underground Elephant as the recipient of the prestigious Gold Stevie for Best Corporate Social Responsibility Program of 2014.
Although Jason and Underground Elephant are honored by the San Diego Business Journal's recognition, this award is also a signal of support for Downtown San Diego's emerging innovation ecosystem, especially its Internet technology companies. Furthermore, San Diego's elected officials—Mayor Kevin Faulconer, City Council, Speaker Toni Atkins, and Congressman Scott Peters—continue to engage these locally-based businesses, helping to rally technology companies around common causes that benefit the entire community, including the creation of competitive, high-paying careers in a vibrant, bustling Downtown San Diego.
"In recent years, I've noticed marked growth within the Downtown San Diego business community—and it's a trend that is quickly gaining momentum," said Jason Kulpa. "A lot of great companies and fantastic CEOs were nominated for this award. To me, this is actually more of a win for my employees as well as for the Downtown San Diego business community."
Underground Elephant is a performance-based provider of online-marketing technology and customer acquisition solutions. Servicing multiple industries, including auto insurance, post-secondary education, health insurance and home services, Underground Elephant provides cloud-based SaaS marketing technology and platforms that deliver qualified calls, clicks and leads.