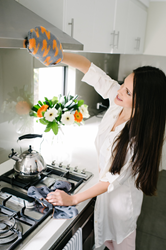 New York, New York (PRWEB) February 11, 2015
A recent study conducted by Nobel Prize winner Dr. Barry Marshall and the WA Neuroscience Research Institute suggests that the use of common anti-bacterial agents found in many household cleaning products can lead to autoimmune disorders, sensitivities and lifetime allergies. For chemical free microfiber cleaning company Zabada, this so-called "Hygiene Hypothesis" is further proof that their innovative cleaning products are nothing less than the future of healthy homes and families.
Made in Austria, the tiny microfibers that make up Zabada products allow them to simply wipe away dirt, dust, dander, and even 99.9% of bacteria effectively. Indeed, university research has indicated that a Zabada microfiber cloth can remove dangerous contaminants more effectively than conventional cleaning methods, even those with bleach or ammonia.
After a simple wet, wipe and dry, consumers simply rinse Zabada products under the tap, sending grime or worse down the drain. Without the acrid smell and harmful pollutants of a toxic spray or powder, Zabada's easy-to-use cleaning products are frequently recommended for households with small children, pets, or adults with respiratory problems or other health issues. As no harmful chemicals are discharged into the air, sewer system or groundwater, Zabada is also seen as a boon for the environment as well.
Further good news? Each Zabada product lasts between 2-3 years, reducing household costs and creating less accumulated trash going into landfills. The Zabada system is an obvious solution for those who simply want a more effective and less costly way to clean their homes.
Those concerned about the growing body of research connecting illness with frequent household chemical use, as well as for consumers interested in a greener, healthier planet will find Zabada clean for life.
The news story can be found online - https://au.news.yahoo.com/thewest/a/26038843/bacteria-exposure-helps-cut-ms-risk/
Publication Date: January 20, 2015
Source: The West Australian