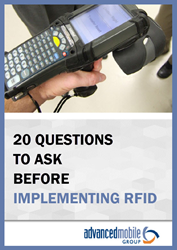 Law Firms, Law Enforcement and many Government Agencies are now in a position to reap the benefits of this technology...
Doylestown, PA (PRWEB) February 11, 2015
Advanced Mobile Group, a leading integrator of mobile computing and tracking technology, will be conducting a Continuing Education Seminar for helping professionals and businesses who work with large-scale document retention and storage processes get an introduction to the latest RFID techniques being utilized today.
"Slow to Whoa: RFID and Physical Document Management" will be introducing the benefits that recent innovations in RFID technology and software can bring to a industries and businesses that have not previously been able to take advantage of this technology.
"Radio Frequency Identification" (RFID) utilizes tiny chips and an integrated scanning and software solution that leads to:

Reduced inventory labor costs by up to 96%
70x increase in inventory efficiency with up to 98% accuracy
98% faster speeds to locate lost files
Karl Herring, Managing Director of AMG indicated "RFID has recently evolved to a point where it can make an enormous difference in industries that have not always benefited from other tracking technologies. We feel that the legal field, law enforcement and many government agencies are in a good place now to see both the gains this technology provides in terms of accuracy and cost that would easily justify it."
Taking place on March 11, 2015 at the Cira Center in Philadelphia (2929 Arch Street, Mezzanine Level), the seminar will give attendees an in-depth understanding of not only the benefits, but the criteria for electing to use this technology and the process for implementing it.
As effective physical document management becomes even more critical for those industries like the legal field, government agencies and law enforcement that have specific restrictions that prevent them from doing everything digitally, RFID technology has new approaches to managing these assets that improves efficiency and accuracy of records.
Attendees will see all of the following:

An overview of how RFID is transforming physical document management
Enjoy hands-on demonstrations
Successful case studies in their own industries
The seminar is provided at no cost to relevant industry professionals and includes lunch. Registration and more information is available here
About Advanced Mobile Group (AMG)
AMG is provides tailored, industry-specific solutions that exceed their clients' standards for performance and reliability. From hardware and software to integration services, Advanced Mobile Group delivers complete, end-to-end mobile computing solutions from leading manufacturers—providing unparalleled value to clients of all sizes. With a deep knowledge and experience that has overseen hundreds of implementations over 20 years, AMG delivers improved speed, accuracy and transparency through the most cost-effective efficiencies mobile solutions can deliver.