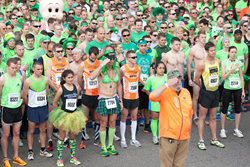 Since Molly and I started the race 38 years ago, McGuire's has been able to donate hundreds of thousands of dollars to charity. We never imagined this event would grow to thousands of runners each year.
Pensacola, Florida (PRWEB) February 10, 2015
Registration is underway for the 38th annual McGuire's St. Patrick's Day 5k Prediction Run, which takes place March 14, 2015, in downtown Pensacola.
The race is the largest prediction run in America. It starts and ends at the McGuire's Irish Pub, a nationally known restaurant famous for its ceiling of green: Hundreds of thousands of signed dollars bills hang from the rafters.
The run was designed three decades ago as a fun way to celebrate St. Patrick's Day and also as an opportunity to raise money for charity. Each year, registration fees go toward local charities and the national Marines Semper Fi Fund.
"Since Molly and I organized the first race 38 years ago, McGuire's has been able to donate hundreds of thousands of dollars to charity. We never imagined that this event would grow to hundreds of thousands of runners a year, coming from all over the world. Our pub is about family, community, and tradition. The race embodies all of those things," says Martin McGuire, owner of the Irish pub. "We are proud to host it each year, and we are particularly grateful for all those who attend."
And, many runners who attend won't leave empty-handed. McGuire's hands out more than 100 trophies and awards in the following categories:

Prediction awards: To the first 5 male or females in each age group who finish closes to their actual predicted times. Age groups are: Male and Female ages 0-9, 10-14, 15-19, 20-24, 25-29, 30-34, 35-39, 40-44, 45-49, 50-59, 60-64, 65-69, and 70+
Best Costume Awards: Individual, Team, and Sharpest Military Formation
Speed Awards: Even though the McGuire's St. Patrick's Day Run is THE NATION'S LARGEST PREDICION RUN, we also award speed awards. Open (39 & under): First 10 males & first 10 females; Masters (40 to 49): First 5 males & first 5 females; Grandmasters (50 to 59): First 5 males & first 5 females; Great Grandmasters (60+): First 5 males & first 5 females. ALL Participants must be able to run or walk 3.1 miles in under one hour.
Team Speed Awards: Trophies will be awarded to the first 3 teams in each division: Male, Female, and Military (active duty, reserve or ROTC.) A team is at least 5 but no more than 7 runners. The first five finishers will score for the team. Teams must submit their registrations together and with the team name and category on the application. No Team Registration or changes will be accepted on Race Day.
Online registration is going on now until March 11, 2015. Register online or pick up registration forms at the restaurant located at 600 East Gregory Street, Pensacola, Florida 32502.
The race registration fee is $30.00 by mail or online before March 11, 2015, or $35.00 day of the race. Runners with questions may email: Mcguiresirishpub@aol.com.
#
The McGuire's 5k Run is a non-profit organization. With public support, the event has been able to make donations in excess of $50,000 to local charities as well as the Injured Marine Semper Fi Fund and Wounded Warrior Project.
##
McGuire's Irish Pub first opened in 1977 as a small neighborhood pub in a shopping center. In 1982 McGuire's moved to its current location: Pensacola's original 1927 Old Firehouse. Inside the pub visitors will find a turn-of-the-century, New York Irish Saloon themed 615-seat restaurant. McGuire's is celebrated for its atmosphere boasting more than one million signed dollar bills hanging from the ceilings and walls of the pub. See more at: http://www.mcguiresirishpub.com.
###