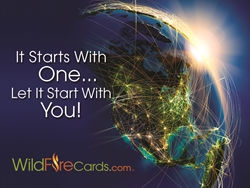 A really fun place to send a message and watch it's impact!
Greenville, SC (PRWEB) February 11, 2015
WildFireCards.com, a new eCard website that is launching just in time for Valentines Day, is transforming the way that individuals and organizations can reach the world with their inspirational message. This new platform uses an innovative concept that combines personalized eCards, social sharing, statistical tracking, gaming and rewards incentives to provide a single place for users to send a message to one person or to millions. WildFireCards believes in the power of one person to change the world with a powerful positive message. They've created a viral messaging tool that enables anyone to do just that.
The WildFireCards model is a unique one. The platform gives an individual or an organization the ability to send a beautiful 30-second to one-minute animated eCard to one person or to thousands for one low fee. These beautiful messages are enhanced by the sender's associated personal message in the form of written text, photos and embedded video.
But, beyond allowing users to send highly personalized eCards, WildFireCards.com is designed to provide valuable feedback to anyone who sends a personalized eCard as well as anyone who forwards it. A sender can locate the cities where their eCard has been opened and track other statistics using an interactive map and tracking page. They can also receive feedback through a social media sharing feature. Anyone who forwards the eCard will also be able to track it and see the impact of the message as it continues to grow.
WildFireCards also offers rewards incentives for spreading a message. When a receiver forwards the eCard, both they are the original sender receive Rewards Points that are based on the number of people who open the message as well as the US states, countries and continents that the message touches. Users are provided with a gaming-style dashboard where they can collectively track the impact of all of their eCards and rewards earned. Rewards Points can be redeemed for gift certificates at WildFireCards' partner, TheSpiritualMall.com, as well as Apple, Target, Starbucks and Southwest.
One of WildFireCards most important missions is to also create impact by giving back to charities that are making a difference around the globe. It's owners have made a commitment to give a major portion of WildFireCards' profits to non-profit organizations that protect and enhance the lives of children, elderly, veterans, animals and the environment.
All of these features come at an affordable price. A single eCard send to an unlimited number of people costs $1.29. Alternatively, users can purchase a monthly subscription for $4.99 or an annual subscription for $49.99 and send an unlimited number of personalized eCards to an unlimited number of people. Until March 31, 2015, WildFireCards is offering annual subscriptions at half off the normal value.
Visit the website today, http://www.WildFireCards.com, and send a free Valentines Day card using a special coupon code located on the homepage. Also, watch for new inspirational eCards that are being added to the site daily.