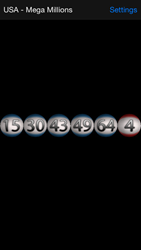 I use SpinIt2WinIt to chose all my lottery numbers!
(PRWEB) February 10, 2015
"SpinIt2WinIt" was featured on NewsWatch as part of its monthly AppWatch, which features the latest and coolest mobile applications on the iOS, Android, and Windows markets. Andrew Tropeano, a mobile technology expert and host of NewsWatch, conducted the app review and shared with viewers how this application is a game that allows users to virtually play and interact with lottery balls.
According to an article by Vision Critical, about 50% of adults play the lottery in the United States. While some people place their bets on numbers that are meaningful to them, others use the SpinIt2WinIt app, which is the first 3D graphic random lucky number generator.
SpinIt2WinIt allows users to play and interact with lottery balls. It's designed to be simple and easy to use as it allows users to choose from over 30 different lotteries with the ease of switching between each one. Players can even define their own ball set if the lottery they want to play is not in the default list, but most of the big payout lotteries are represented like Powerball and National Lottery.
To play SpinIt2WinIt, all users have to do is launch the app, choose the lottery they want to play, and swipe to spin the balls. If they don't like a number, they can just spin that ball or all the balls until they are satisfied. A single finger double tap will spin them as well. Or if you are in a hurry just give it a two-fingered double tap to generate a random line instantly. The app uses a complex friction algorithm to slow down the balls giving them animation. With each ball rotation a new random number is produced within the confines of that particular lottery. SpinIt2WinIt is available for .99 cents on iOS devices. It's even compatible with early devices like the iPhone 3GS.
To learning more, visit https://itunes.apple.com/TR/app/id885592068 today.
About NewsWatch
NewsWatch is a weekly 30-minute consumer oriented television show that airs on the History Channel, FYI Network, and ION Network. NewsWatch regularly features top technology products and services, mobile applications for iOS, Android, and Windows devices, unique and beautiful travel destinations around the world, health and medical tips, and entertainment interviews on the show. NewsWatch airs on the History Channel at 6:00 – 6:30 AM ET/PT and on the FYI Network from 7:00 – 7:30 AM ET.
NewsWatch is located in the greater Washington, DC area and has been on air for over 25 years. For more information or to watch the most recent episode, visit http://newswatchtv.com/appwatch.html.