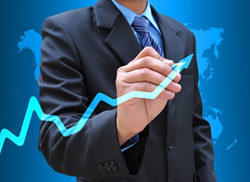 A higher GDP could help boost home sales this year as home buyers become more confident in the economy
Chicago, IL (PRWEB) February 10, 2015
Although gross domestic product growth fell short of economist' expectations, The Federal Savings Bank was pleased to hear that the housing market could continue expanding with GDP, according to the Eye on Housing blog by the National Association for Home Builders. As a measure of the overall health of the economy, GDP is calculated by adding up consumer and government spending, investments and net exports.
The U.S. Bureau of Economic Analysis recently reported on January 30th that GDP grew at an annual rate of 2.6 percent in the last quarter of 2014. This is a decrease from the 5 percent increase experienced in the previous quarter after federal government spending declined and other factors.
Why Housing Market Could Grow as GDP Rises
Although GDP growth slowed in the fourth quarter of 2014, investment firm Goldman Sachs said the growth could pick up in 2015. A higher GDP could help boost home sales this year as home buyers become more confident in the economy accordingly to HousingWire.com on February 5th.
"We therefore expect a pickup in housing activity - along with the oil-driven improvement in consumer spending growth - to offset the negative impact of the stronger dollar on net exports, helping to keep real GDP growth around 3 percent in 2015," Goldman Sachs said in a client note, according to HousingWire.
A positive outlook on the economy can also help sustain demand even as home prices increase.
In turn, a rise in demand for housing services could help stimulate the economy. Residential investment typically accounts for about 5 percent of GDP, and housing services represent 12-13 percent. As homeowners buy more homes, these segments of GDP could continue to grow and keep the economy healthy.
First-time home buyers demanding housing services ,may contact the Federal Savings Bank, a veteran owned bank, for answers to questions they may have about owning a home.