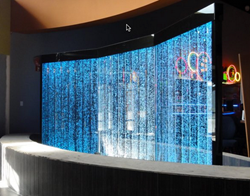 We are steadily progressing towards becoming the top water feature supplier to interior design firms, homebuilders and individual clients
Houston, TX (PRWEB) February 10, 2015
Joining a growing population of industry-dominating eCommerce sites, Fountains.com officially launched last month as the premier online retail source for indoor and outdoor decorative water features. The venture is a joint effort, conceived by two mutually successful, Houston-based entrepreneurs—and brothers—Bob and Roger Janik.
Bob, who comes from a retail background that stretches three decades long, has been in the fountain industry exclusively for more than 25 years. Ready for a fresh challenge, he decided last year to take his long-standing business storefront to a new level by diving into the online retail market.
Enter Bob's younger brother, Roger—the local marketing guru and visionary owner/CEO behind Fair Marketing, a boutique communications firm that specializes in SEO, online advertising, social media and everything in between. Building on Bob's solid business structure, Roger applied his online expertise to help launch the web's largest inventory of indoor and outdoor water fountains at the lowest rates available.
"We are steadily progressing towards becoming the top water feature supplier to interior design firms, homebuilders and individual clients," Bob said, of the Janik's collaborative new enterprise. "Our goal is to provide high-quality, luxurious fountains to homes and businesses at an affordable price."
Officially launching at the start of the year, Fountains.com is a major player on a stage set amply for growth and profitability. With global sales predicted to hit $2 trillion by the end of 2015, eCommerce is the fastest growing sector of the retail market, according to an industry report released last year. In the home furnishings market alone, eCommerce sales have shown a consistent pattern of growth—generating $17 billion in revenue in 2013 and projected to reach more than $23 billion over the next 10 months.
Bob credits the instant success of Fountains.com to the family partnership, which integrates his four cornerstones of retail—providing the largest selection of the highest quality products at the lowest prices, all alongside exemplary customer service—with his brother's standard of excellence in web design, programming and marketability.
Primed as the decorating industry's go-to source for luxury water features, Fountains.com is designed to maximize the online shopping experience—hosting a massive collection of indoor and outdoor fountains in a wide range of styles, sizes and prices on an easily navigable, user-friendly website. Shoppers can create a personal account to utilize the site's shopping cart feature, view an extensive product catalog and make purchases protected by secure online transaction software.
In addition to hundreds of featured products, a line of custom fountains—unique to the Fountains.com brand and popular among homebuilders and interior decorating professionals—can be hand-tailored to customer specifications. Logo fountains—which are designed and customized to highlight business branding in offices and other commercial spaces—are particularly high-interest items, according to the Janik brothers, exemplifying the exceptional level of product that Fountains.com exclusively provides.
Maintaining Bob Janik's gold standard in customer service and satisfaction, Fountains.com boasts a low-price guarantee on each certified-quality product—all backed by a manufacturer's warranty and highly responsive online customer support. Any inquiries or concerns submitted online receive a response within 24 hours, and customer care agents are also available by phone during regular business hours. Fountains.com offers free shipping on most items and includes shipping insurance with all orders, for consumer protection. The Fountains.com product-line is designed for easy self-installation, allowing customers to assemble their purchases quickly and without the need for added service fees.
"Providing great products and great service is our vision," Bob said. "We supply great service to all of our clients—before, during and after the sale."
Fountains.com has the largest selection of high-quality indoor, outdoor and custom fountains available online at the lowest-guaranteed prices. Purchases can also be made by phone for customer convenience, and product satisfaction is always guaranteed. To learn more about Fountains.com—or to purchase a luxury fountain for a home, garden or business—contact Fountains.com online or by calling 1(844)-4-FOUNTAINS.