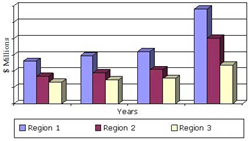 The Global Antibody Drug market is expected to grow at a compound annual growth rate (CAGR) of 12.2% through 2019
Wellesley, Mass (PRWEB) February 10, 2015
BCC Research (http://www.bccresearch.com) reveals in its new report on antibody drugs that increasing competition and new technologies are propelling the market in a new direction. This industry experienced significant clinical growth during the past decade because of its pivotal role in developing effective targeted treatments to prevent a number of life-threatening diseases. The new advancements, new product launches and the results of a strenuous and fast lifestyle will influence the market to grow in the foreseeable future.
The global antibody drug market is expected to grow at a compound annual growth rate (CAGR) of 12.2% through 2019, reaching a market share of $122.6 billion during the forecast period. The use of monoclonal antibodies (mAbs) in therapeutics such as oncology, autoimmune diseases and inflammatory diseases is anticipated to increase during the forecast period.
mAb drugs are a new generation of drugs that help understand how antibodies have gained a significant importance as a modern treatment for chronic and fatal diseases. These antibodies have revolutionized the research approach for various conditions and have paved the way for a new class of drugs that allows for highly specific treatment, prevention and control conditions for many global chronic diseases.
"Advancements in technology will help in further investigations and development of novel antibody drugs. Current therapy research and development is geared toward investigation of approaches such as antibody-drug conjugates and bispecific antibodies that attack proteins present inside a cancerous cell," says BCC Research analyst Shalini S. Dewan. "Therapies that more effectively suppress the further progression of diseases such as arthritis, MS, hepatitis, Crohn disease and AIDS are being developed."
However, the entry of biosimilars in 2015 may have a long-term impact on the market. A rapid increase in medical technologies, growing awareness of the possibilities, improved diagnosis of diseases and expansion of health care in emerging markets are predicted to yield a positive effect on the market.
Antibody Drugs: Technologies and Global Markets provides an overview of the current and future characteristics of the global market for mAb drugs, and analyses the present and future strategies within the different mAb drug markets including murine mAbs, chimeric mAbs, humanized mAbs and human mAbs. Sales figures are estimated for the five-year period from 2014 through 2019.
Editors and reporters who wish to speak with the analyst should contact Steven Cumming at steven.cumming(at)bccresearch(dot)com.
About BCC Research
BCC Research publishes market research reports that make organizations worldwide more profitable with intelligence that drives smart business decisions. These reports cover today's major industrial and technology sectors, including emerging markets. For more than 40 years we've helped customers identify new market opportunities with accurate and reliable data and insight, including market sizing, forecasting, industry overviews, and identification of significant trends and key market participants. We partner with analysts who are experts in specific areas of industry and technology, providing unbiased measurements and assessments of global markets. Recently selected as the world's greatest market research company, BCC Research is a unit of Eli Global, LLC. Visit our website at http://www.bccresearch.com. Contact us: (+1) 781-489-7301 (U.S. Eastern Time), or email information(at)bccresearch(dot)com.