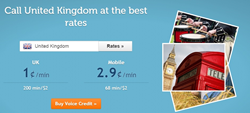 Atlanta, Georgia (PRWEB) February 11, 2015
Want to feel like home, no matter where you live? RingBritain.com made it possible for its British customers living outside their mother country, thanks to the Virtual Number service. And to convince them about the great benefits this service offers to long distance relationships, RingBritain.com has a special offer: 90% OFF for the first month. That means RingBritain.com customers pay only $0.99/month USD instead of $9.99 USD, the usual rate.
How does the service work?
Let's say RingBritain.com customers live in New York and they have mobiles. Their friends live in UK and their numbers are +44 203 area code ones. RingBritain.com customers need to get a Virtual Number in the area code +44 203, London, that they can forward to their New York phone numbers. This way, their friends don't have to pay long-distance charges when they call New York! So, virtually, it's like living back home in UK!
In addition to the Virtual Number service, RingBritain.com also offers Voice Credit, a prepaid service offering affordable credit for international calls and SMS. Calls can be made from any phone via access numbers, from a computer through the Web Call app, and from a smartphone, using a free app for iOS and Android called KeepCalling. Calling UK landlines costs only 1 ¢/min, whereas the rate for calling mobiles is 2.9 ¢/min. SMS can be also be sent from the Web SMS and KeepCalling apps, at only 9¢.
Either for calls, or for the Virtual Number service, security is the keyword.
Several security filters protect customers from possible frauds, making all transactions 100% safe. All major payment methods are accepted: Visa, MasterCard, American Express, Discover and PayPal.
What makes RingBritain.com a great solution for keeping a close relationship with everyone "back home", when living abroad?

the customer-focused approach, based on safe and easy to use services
the special offers, offering bonuses or discounts on international calls
the great Customer Service available 24/7, both in English and Spanish.
Customers acknowledge it in their reviews: "Excellent call rates from the US to the UK and I also use their virtual number service so I have a UK number that my friends and family in the UK can call at local rates. It transfers directly to my cellphone and the call quality is excellent." Or: "Fantastic service I cannot believe it cost so little to call the UK from Australia even to a mobile phone and it's great that you can put as little as $2 on your credit. Keep up the good work."
About RingBritain.com
RingBritain.com is an interactive website designed by KeepCalling, a global telecommunications company registered in 2002 in USA. Presently, KeepCalling provides its services to hundreds of thousands of consumers and businesses, with a focus on customer satisfaction. KeepCalling has been listed by Inc 5000 in top 20 telecom companies in the USA for the last 4 years. In 2014 the company was designated the 18th fastest growing company in the telecommunications industry in USA with a revenue increase of over 600% from 2010 to 2013.