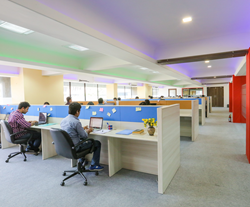 We have so much to offer tech enthusiasts and future tech entrepreneurs besides our vibrant and ergonomic workstation and facilities
Hicksville, NY (PRWEB) February 11, 2015
Managing the multitudes of aspects within a startup certainly doesn't come easy to budding entrepreneurs; especially in the cut-throat tech industry where each one is urging to be at the top. Working space, collaboration, resources, funds and community are few of the most critical elements to any new startup.
As an answer for every technology startup that is willing to avail these amenities in the most cost-effective manner, OpenXcell Technolabs has successfully laid a strong foundation to help these startups turn their dream ventures into reality. OpenXcell Technolabs with its team of experienced project managers, skilled developers, and tech evangelists, along with dedicated resources and a vibrant co-working space, have joined forces to create OpenXcell Technology Center one of the most cost-effective co-working space in Ahmedabad, India.
"We have so much to offer tech enthusiasts and future tech entrepreneurs besides our vibrant and ergonomic workstation and facilities." says Jayneel Patel, CEO of OpenXcell Technolabs." He adds, "We are looking forward to create great opportunities for entrepreneurs to explore, learn and network through our dedicated mentor programs carried out by our experienced team that will be sharing its expertise in app development, app marketing and an array of areas of technology. This will help the startups to have a better understanding of their business strategies and work management skills altogether. Along with providing tech mentorship, we are looking forward to help startups to raise funds from potential investors, and thereby make the entire process of establishing startups less challenging. "
The main functions of OpenXcell Technology Center includes offering a working space that comprises of conference and meeting rooms, reading room, open workstations and lounge area that acts as a collaborative space. The workstation is facilitated with ergonomic chairs, LCD projectors for events and discussions, printing and scanning facility, complimentary refreshments, and the most obvious a high-speed internet connection to get going.
Potential tech startups who are considering limited budgets initially can take advantage of OpenXcell Tech Center's work space by opting either of two plans that are precisely designed to fit in their budget.
To learn more about OpenXcell Technology Center, go to http://www.openxcelltechcenter.com/. For more information on hiring the desk, please visit http://www.openxcelltechcenter.com/contact-us/ or send an email on info@openxcelltechcenter.com.
About OpenXcell Technology Center
OpenXcell Technology Center provides a vibrant co-working space as well as tech mentor programs to tech startups. The center is precisely designed to encourage openness, innovation and collaboration.
About OpenXcell Technolabs
OpenXcell Technolabs is a renowned mobile app development company. The company provides cost-effective app development and app marketing solutions for iOS and android. Openxcell has its headquarters located in the US with its app development centre located in India.
###
Contact information
OpenXcell Technology Center
Jayneel Patel
Phone: +91-999-822-2929
Address:
202-203, Baleshwar Avenue,
Opp. Rajpath Club, S.G Highway
Ahmedabad -380054, Gujarat, India.
Email: info@openxcelltechcenter.com