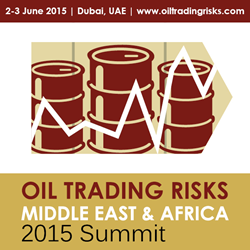 It's an IRN Summit!
London (PRWEB UK) 10 February 2015
The Middle East and Africa regions represent great potential in terms of oil production and consumption, but risks associated to trading within that area are also numerous. Profitability for companies operating in these markets may be affected by market, counterparty, political and financial risks. These risks need to be managed in a very efficient way to avoid losses, reputational damage and lack of security in the supply chain.
Companies must achieve optimum risk mitigation techniques in order to take advantage of the vast opportunities the region is offering. The Oil Trading Risks Middle East & Africa 2015 Summit will gather Heads of Trading, Risk Managers and Financial Managers from oil trading companies, refineries as well as transportation companies, including aviation, to share best practices around risk management.
The Summit will address latest trends in oil trading markets, risks related to entering new markets and how to reduce them, hedging as a tool for risk mitigation, CTRM systems, trade finance, credit risk, price volatility, political risk hot spots in the region, trade sanctions, currency risk and risk reporting, amongst many others.
Speakers will consist of senior experts from major companies including Etihad Airways, Petro China, Oando, The Oil & Gas Holding Company (nogaholding), Aves Ic ve Dis Ticaret A.S., Turkish Airlines, Hess Energy Trading Co. (HETCO), Bharat Petroleum Corporation Limited, Golden Crown, Dragon Oil and many others. The Speaker Faculty will share their experience and best practices with the audience and give insights on how to keep these risks to a minimum.
More information about the Summit, Speakers and the Agenda, can be found on the website: http://www.oiltradingrisks.com