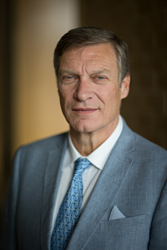 "...you cannot pluck ethics and virtues out of thin air: they emerge from traditions of behaviour, especially those linked with a religion or philosophy."
Oxford, United Kingdom (PRWEB UK) 10 February 2015
Efforts to improve integrity in business by increasing regulation, enhancing corporate governance structures and expanding MBA ethics modules will not succeed unless they are combined with an understanding of practical wisdom, says Professor Ted Malloch, Fellow in Management Practice at Saïd Business School, University of Oxford.
In his new book, Practical Wisdom in Management: Business Across Spiritual Traditions, he argues that wisdom can only be gained by connecting with the "virtues" found in all the world's spiritual and philosophical traditions.
'Discussion of the 2008 financial crisis has focused on 'systemic failures' but taken little account of personal responsibility. This is all the more shocking because we are not just talking about a few 'bad apples': executives in an entire industry fell victim to the temptations of excessive risk-taking and greed with disastrous effects. It was a whole managerial class that lost the wisdom of judgement and prudence,' says Malloch. 'The remedies adopted so far – better regulation and governance, prescribed lists of qualities or behaviours, and more effective incentives – are simply not enough.'
Since the financial crisis cast doubt on the neo-liberal "virtues" of individualism and shareholder value, there has been increased interest in the concept of business ethics and in the importance of companies' values and virtues. But Malloch's point is that you cannot pluck ethics and virtues out of thin air: they emerge from traditions of behaviour, especially those linked with a religion or philosophy.
He believes that companies should therefore pay as much attention to their "Spiritual Capital" ‒ a fund of beliefs, examples, and commitments transmitted from generation to generation through a religious, moral or spiritual tradition ‒ as they do to their social capital and human capital.
Practical Wisdom in Management: Business Across Spiritual Traditions illustrates his argument by examining a series of case studies of prominent, successful and sustainable businesses that have emerged from specific religious or spiritual traditions.
Case study examples
Johnson & Johnson, US pharmaceutical company, Protestant tradition
At the heart of Johnson & Johnson is a company "credo" published in 1943. This continues to influence day-to-day decision-making and inspires a range of social responsibility initiatives. Most importantly, it has been behind some high-profile product-recalls, most famously the Tylenol crisis of 1982, since hailed as a textbook example of crisis management.
Toyota Motor Co, Japanese automobile company, Shintoism tradition
Toyota's well known lean production system (TPS) is shaped by the company's commitment to corporate social responsibility and sustainable development which stem from its spiritual roots in Shintoism practiced by its founder Dr Toyoda. Its organisational philosophy "seeking harmony between people, society, and the global environment and sustainable development of society through manufacturing," underpins Toyota's managerial approach.
Four Seasons, Canadian hotel company, Jewish tradition
Founder Isadore Sharp, the son of Polish immigrants, built the Four Seasons business around a single Golden Rule: "Do unto others as you would have done unto you." This principle is built into the details of product and service, as well as into a compassionate and positive management philosophy.
Michelin, French tire manufacturer, Catholic tradition
An unapologetic Catholic François Michelin believed every individual worker limitless potential and sought to find the contribution each could make. This progressive view towards the management of "human capital" at all levels supports product innovation and quality improvement, and has strengthened more recent efforts to introduce corporate social responsibility programmes.
For more information or to speak with Ted Malloch please contact the Press Office:
Josie Powell, Press Officer,
Tel: +44 (0) 1865 288403; Mobile +44 (0)7711 387215
Email: josie.powell(at)sbs(dot)ox(dot)ac(dot)uk or pressoffice(at)sbs(dot)ox(dot)ac(dot)uk
Kate Richards, PR Coordinator, Saïd Business School
Tel: +44 (0)1865 288879, Mob: +44 (0)7711 000521
Email: kate.richards(at)sbs(dot)ox(dot)ac(dot)uk
Notes to editors
About Ted Malloch
Ted Roosevelt Malloch is a Fellow in Management Practice at the Saïd Business School, University of Oxford. He previously served as Research Professor at Yale University.
http://www.sbs.ox.ac.uk/community/people/ted-malloch
About Saïd Business School
Saïd Business School at the University of Oxford blends the best of new and old. We are a vibrant and innovative business school, but yet deeply embedded in an 800 year old world-class university. We create programmes and ideas that have global impact. We educate people for successful business careers, and as a community seek to tackle world-scale problems. We deliver cutting-edge programmes and ground-breaking research that transform individuals, organisations, business practice, and society. We seek to be a world-class business school community, embedded in a world-class University, tackling world-scale problems.
In the Financial Times European Business School ranking (Dec 2014) Saïd is ranked 10th. It is ranked 14th worldwide in the FT's combined ranking of Executive Education programmes (May 2014) and 22nd in the world in the FT ranking of MBA programmes (Jan 2015). The MBA is ranked 7th in Businessweek's full time MBA ranking outside the USA (Nov 2014) and is ranked 5th among the top non-US Business Schools by Forbes magazine (Sep 2013). The Executive MBA is ranked 21st worldwide in the FT's ranking of EMBAs (Oct 2014). The Oxford MSc in Financial Economics is ranked 7th in the world in the FT ranking of Masters in Finance programmes (Jun 2014). In the UK university league tables it is ranked first of all UK universities for undergraduate business and management in The Guardian (Jun 2014) and has ranked first in ten of the last eleven years in The Times (Sept 2014). For more information, see http://www.sbs.ox.ac.uk/