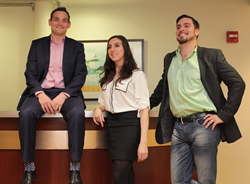 "LiveDatingAdvice is such an awesome idea! Telling all my friends about it." -Malory Haggen, Miss America 2013
New York, NY (PRWEB) February 11, 2015
LiveDatingAdvice was founded by three New York based international dating coaches with the goal of bringing the best on-demand dating insights to singles. Traditionally most people were not able to afford dating coaching. The three founders set out to change the status quo, and provide expert, yet affordable advice.
Launched on February 6th, LiveDatingAdvice is transforming the dating advice industry.
"Hitchify Your Dating with LiveDatingAdvice."
Carmelia Ray
Online Dating and Matchmaking Expert
LiveDatingAdvice provides personal dating advice from a certified, professional dating coach for 1/40th of the traditional cost. It is an elegant solution to age old problems: What do I do? Where do I go? Does he like me? Why am I not getting any response?
When a single man or woman needs advice on a profile, photos, text, message, date -- or all of the above? There is usually no one to turn to. Now they will get connected to a certified dating advisor in seconds on their phone, tablet or computer. Anywhere, anytime LiveDatingAdvice solves dating issues on the go. All their advisors are certified by the International Dating Coach Association. Dating should be fun, LiveDatingAdvice takes away hardest part of dating.
"Dating is complicated (but it doesn't have to be). LiveDatingAdvice provides a must-have solution for singles!"
-Paul Carrick Brunson
Oprah Winfrey's Dating Coach and Matchmaker
Contact Info
33 West 19th Street, Ste. 4
New York, NY 10011
212-658-0555
@DatingEvolution
Press(at)LiveDatingAdvice(dot)com
http://www.LiveDatingAdvice.com