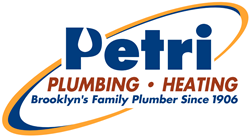 Our winters can be brutal and our summers can be hot which means vital home systems undergo constant stress year round and are very prone to catastrophic mishaps if ignored
Brooklyn, NY (PRWEB) February 10, 2015
Petri Plumbing and Heating, Inc., a leading plumbing company serving Brooklyn since 1906, now offers specialized winterized home services and advice for residents. From extensive and time-tested experience in one of the worst winter weather cities in America, Petri Plumbing understands how to prepare a home in the Middle Atlantic for winter with professional inspections, leak detection, burst prevention, water heater maintenance and more.
"Being Brooklyn's trusted source of home plumbing and service needs for more than 100 years has given us a wealth of knowledge on just how important winterization is for homes in New York City and beyond," said Michael Petri, owner at Petri Plumbing. "Our winters can be brutal and our summers can be hot which means vital home systems undergo constant stress year round and are very prone to catastrophic mishaps if ignored."
Of the many methods of home winterization, pipe burst prevention is one of the most important. With average temperatures in Brooklyn during the winter around or below freezing, the water in a home's plumbing system is highly susceptible to freezing. If this occurs and pipes burst as a result, problems such as home floods and general property damage, including structural, can arise. In order to prevent this from occurring, Petri Plumbing recommends homeowners conduct simple procedures such as allowing interior and exterior faucets to be left running open at a slow yet steady trickle. All water in outside supply lines should be drained with hoses stored away, while pipes in unheated areas should be wrapped in insulation materials including rags, electrical heat tape or even newspapers.
"When water turns to ice inside a pipe, it expands and has nowhere to go other than outside the plumbing – bursting the structure itself," said Petri. "A burst pipe is what we consider an absolute plumbing emergency and prevention is the best cure for the issue. A professional home inspection can go a long way in determining what areas of your plumbing system require more insulation than others."
Next to burst pipes, water leaks are another winter weather hazard facing home plumbing systems. When present, leaks can account for up to 14 percent of an average household's water use and when temperatures constantly fluctuate between freezing and above freezing like they do in New York City, pipes tend to be more prone to leaking. While some leaks may seem plainly obvious, not all are created equal with toilet, underground, irrigation and many more types plaguing home systems. Having a home inspection conducted by a trusted professional can often times unveil leaks never before noticed and getting these fixed now can help prevent bursting issues throughout the winter and into the next.
"Fixing leaks and preventing burst pipes are some of the best ways to winterize a home but residents should not ignore their water heaters as these are also prone to issues caused by cold weather as well," said Petri. "Older systems with storage tanks can rust which creates sediment build up. This build up can strengthen the chance of pipe bursts and we often recommend newer system replacements with advanced and efficient indirect hot water heaters which are powerful enough to withstand the harsh winters of New York and beyond."
To learn more about Petri Plumbing, call 718-748-1254 or visit: http://www.petriplumbing.com/
About the Petri Plumbing and Heating, Inc.
Petri Plumbing and Heating, Inc. is a family owned and operated business serving Brooklyn and the New York City area. Founded in 1906, the company offers a 100 percent guarantee on all services, upfront pricing, and friendly and knowledgeable Service Experts for all kinds of home and business plumbing and heating needs. Services offered include water and gas pipe leak repair and installation, fixture installations, inspections, boiler repair, water heater installation, complete bathroom, kitchen, laundry & utility room remodeling and more. Petri Plumbing is also licensed and certified by Green Plumbers USA - the first in New York City. For more information, please visit: http://www.petriplumbing.com/