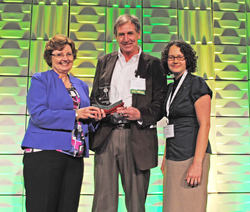 "This award recognizes the commitment of our employees and directors to serve and improve our rural communities."
Mechanicsville, VA (PRWEB) February 11, 2015
Colonial Farm Credit was honored with the coveted Phelps-Martin Award for Community Service by the Farm Credit Council at the Council's Annual Meeting in San Francisco. Farm Credit associations from across the country are eligible to be nominated for the award as are their members and employees. Colonial Farm Credit received the award for the breadth of its programs focusing on outreach and education of young, beginning, and small farmers throughout its territory of eastern Virginia and southern Maryland.
"We are humbled to be chosen for this award among the many excellent programs being conducted by Farm Credit associations," noted Greg Farmer, president and CEO of Colonial Farm Credit. "This award recognizes the commitment of our employees and directors to serve and improve our rural communities." One of the highlighted programs is partnership with 28 farmers' markets by providing monetary sponsorship and advertising materials to help them promote and enhance their local markets.
Another area of outreach is their partnership with Virginia State University, a Land Grant University based in Petersburg, Virginia. Virginia State University has an excellent, and unique, series of programs focused on the small and beginning farmer in the central Virginia area, helping them start greenhouse or livestock operations in addition to specialty crops and aquaculture. Colonial Farm Credit assists by providing monetary sponsorship of activities, making loan officers available to present seminars, and being involved with their Iron Chef and Ag Business Plan Competitions.
One specific area noted by the judges for praise was the Colonial Agricultural Educational Foundation's scholarship program. In 1990, Colonial Farm Credit provided the seed money for this program and continues to support it annually. The Foundation provides 94 scholarships totaling $157,500 to students in rural Virginia every year and has provided over $2,000,000 in scholarships since its inception.
Accepting the award in San Francisco on behalf of Colonial Farm Credit were Hugh Jones, chairman of the board of directors and a dairy farmer from Nottoway County, Virginia; and Megan Lawson, Marketing Specialist and the coordinator of many of the outreach programs noted in the award. "On behalf of the board of directors and members of Colonial Farm Credit, we are pleased and humbled to receive this award," said Mr. Jones. "The board supports our mission of outreach and is especially proud of the work of the Colonial Agricultural Educational Foundation to provide scholarships to the future of farming and rural America."
About the Phelps-Martin Award
The annual awards were established by the Board of Directors of the Farm Credit Council in the memory of two Farm Credit employees, Steve Phelps, Farm Credit Council general counsel, and Marsha Martin, chairman of the FCA Board and former Texas district bank senior vice president, both of whom died of cancer in 2000. Each had been very active in service to their communities and in support of agriculture.
About Colonial Farm Credit
Colonial Farm Credit is a customer-owned financial cooperative and member of the nationwide Farm Credit System. Colonial Farm Credit loans funds and provides financing expertise to farmers, agribusinesses and rural homeowners for land, homes, and farm operating purposes. With twelve offices serving eastern Virginia and southern Maryland, the cooperative has over 4,625 members and $607 million in loans outstanding. The complete Colonial Farm Credit 2014 annual report is available at http://www.colonialfarmcredit.com.
# # #