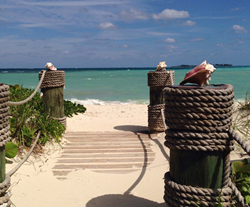 We're so excited to give our readers a list of inspiring destinations – both far flung and close to home – that will help them save money in 2015...
New York, NY (PRWEB) February 11, 2015
ShermansTravel.com, a leading digital publisher of hand-picked travel deals and value-oriented destination advice, has released their Top Budget Destinations of 2015. The editors and deals experts at ShermansTravel.com curated their annual list based on a variety of money-saving criteria as well as accessibility, trending developments, new flights, hotel offerings, and affordable options in traditionally expensive regions.
"We're so excited to give our readers a list of inspiring destinations – both far flung and close to home – that will help them save money in 2015. We want to show people that destinations like Fiji and Ecuador don't have to stay relegated to a bucket list, and that a place like Kansas City can be just as dynamic and ripe for exploration as any international city," said Publishing Director Laura Motta.
Here's a quick snapshot of ShermansTravel's Top Budget Destinations of 2015:
Algarve, Portugal
Whether you're staying during peak season for less than $100 per night, or for less than $50 during low season, The Algarve is the perfect place to enjoy beautiful beaches, breathtaking sea views, and even a 17th century castle, Fortaleza da Santa Caterina.
Kansas City, MO
Kansas City is only a three-hour flight from either coast and is known to be one of the cheapest Midwest destinations to fly into. The city also offers guests some of the best barbecue in the nation and an unexpected art scene -- all at Midwest prices.
Taipei, Taiwan
Taipei is an economical and diverse alternative to the classic Asia trip circuit. With cheap eats (think six-course meals for $35) and MRT subway rides for $1.50, Taipei has plenty of affordable appeal.
Providence, RI
Providence is an artsy city with top attractions including the annual WaterFire event, the Providence Children's Film Festival, and the Culinary Arts Museum at Johnson & Wales. The new Dean Hotel fits perfectly into the town's high culture, and the downtown train station makes the city as convenient to reach as it is affordable.
Nicaragua
With off-the-radar appeal, Nicaragua is less developed and less expensive compared to its neighbor Costa Rica. The beautiful landscape features rushing waterfalls, towering mountains, and active volcanoes.
Africa Safari Destinations
Southern destinations in Africa are perfect for once-in-a-lifetime adventure and won't cost a fortune Namibia, Botswana, Zimbabwe, or Zambia for a safari experience featuring local foods, game drives, and tent accommodations.
Reno-Tahoe, NV
In Reno, accommodations are averaging less than $100 per night, making the city an extremely affordable base for exploring Tahoe's world-class ski resorts. Outdoor activities range from fly fishing and rock climbing to mountain biking and paddle boarding.
Quito, Ecuador
With a range of budget accommodations -- from hostels to historic hotels -- starting at $39 per night, Quito is a budget traveler's dream. After a major makeover known as Plan Q -- which pumped a quarter-billion dollars into the city over the past 12 years -- this UNESCO World Heritage Site is ready to visitors.
Nassau, The Bahamas
All eyes are on Nassau, The Bahamas, in 2015 thanks to fast and inexpensive flights from the East Coast and the grand opening of the new Baha Mar resort. This island paradise is perfect for a weekend getaway.
Fiji
Plan a more practical, affordable, and accessible trip to the South Pacific this year in the Fijian islands. Fiji accommodates all budgets, whether you're looking from a dormitory bed for about $25 or a beachfront traditional hut for about $260.
To discover more about ShermansTravel's Top Budget Destinations of 2015,
visit http://bit.ly/budgetdestinations2015.
About ShermansTravel
ShermansTravel is a leading travel media company that publishes hand-picked travel deals, trip ideas, and expert value-oriented destination advice at ShermansTravel.com and through its weekly email publications, including its weekly Top 25. Founded in 2002 to help travelers make sense of the overwhelming number of online travel specials through deals curation, ShermansTravel is a go-to source for the best savings, savvy insider tips, and the latest in affordable luxury. For new travel deals and trending stories, visit http://www.shermanstravel.com.
###