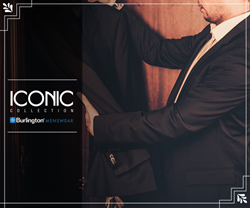 "The Iconic Collection represents the finest fabrics, drawn from Burlington's legacy in fine worsted wools and fashioned in new, elegant designs that embrace the style of today's contemporary man," says Peter Baumann, senior vice president merchandising,
Greensboro, NC (PRWEB) February 11, 2015
The Spring 2016 Collection is available in both super 110s and 120s fine yarns featuring softness with a clean hand and smooth drape. The Collection is made up of Burlington "Made in Americas" fabrics manufactured in both the U.S. and Mexico. Fabric styles are available for immediate sampling.
"The Iconic Collection represents the finest fabrics, drawn from Burlington's legacy in fine worsted wools and fashioned in new, elegant designs that embrace the style of today's contemporary man," says Peter Baumann, senior vice president merchandising, Burlington Menswear. "We are positioned to be the fabric supplier of choice to a broadened better and moderate men's market, offering customers a choice of platforms and expanded fabric collections."
About Burlington
With more than 90 years of textile leadership, Burlington is a global diversified provider of textile solutions across performance & specialty apparel fabrics, active wear, advanced uniform fabrics, and technical fabrics. Burlington operates as part of the International Textile Group, Inc. (ITG) with worldwide operations in the United States, Mexico, and China. ITG's business units include: Burlington, Cone Denim, Safety Components, and Carlisle Finishing. To learn more visit http://www.burlington.com and http://www.itg-global.com