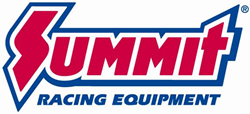 Tallmadge, OH (PRWEB) February 12, 2015
Taylor Vertex Ready-to-Run Distributors feature an ignition module that can handle a high-revving race engine. The HEI magnetic pickup distributors are compatible with both vacuum and mechanical advance, and can be adjusted up to 10 degrees.
Good to 9,000 RPM, Vertex Ready-to-Run Distributors are easy to install using a standard three-wire connection. Each distributor is built with a billet aluminum housing, heavy-duty oil seals, a chromoly steel gear, a billet aluminum spark plug wire retainer, and a cap with solid brass contact terminals.
Summit Racing has three versions of the Taylor Vertex Ready-to-Run Distributor:
TAY-661000 1955-2002 Chevy V8 except LS, LT-1
TAY-661630 1962-81 small block Ford and 351W
TAY-661640 1968-89 Ford 35C, 351/400M, 429/460
Summit Racing Equipment
http://www.SummitRacing.com
1-800-230-3030