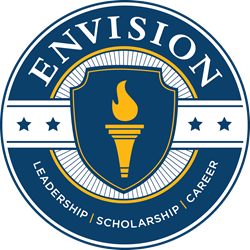 The involvement and fascination of today's youth demonstrates a growing enthusiasm for STEM-related careers, which we whole-heartedly support.
Goddard Space Flight Center, MD (PRWEB) February 10, 2015
In support of the upcoming Engineers Week, Envision Experience personnel were on-hand with NASA this week at the Goddard Space Flight Center, sharing the State of NASA event via social media. On February 2, 2015, NASA hosted simultaneous State of NASA events at ten of their agency field centers, inviting social media followers and news media to share highlights of NASA's journey to Mars – a project of discovery that tests cutting-edge technologies as the agency advances the era of air and space travel. Guests at Goddard were connected via NASA Television simulcast with NASA Administrator Charles Bolden at Kennedy Space Center.
Envision Experience social media expert Spencer Burgos was honored to attend the State of NASA, sharing the unique and interactive learning experience in real-time via social media. At Goddard, Burgos was able to meet with astronauts, astrophysicists and NASA program directors, documenting the action in live video, photos and commentary.
NASA's visionary mission to advance humankind's understanding of Earth and the universe aligns with Envision's dedication to helping today's youth advance their own futures through hands-on career and leadership exploration. Envision's involvement with NASA's social media outreach has enabled students and technology enthusiasts of all ages to share an inside look at some of the most exciting technological breakthroughs of our time, inspiring new passion for engineering and innovation.
"Our social media community has been extremely responsive to our behind-the-scenes NASA coverage," Burgos said. "The involvement and fascination of today's youth demonstrates a growing enthusiasm for STEM-related careers, which we whole-heartedly support. I was thrilled to be invited to Goddard for the State of NASA event, especially since the timing coincides with Engineers Week, coming later this month."
Engineers Week, February 22-28, 2015, was created to celebrate the value of engineering education and careers, bringing engineering to life for the next generation of innovators. Envision supports the Engineers Week efforts, offering a variety of learning programs that enable students to explore career opportunities and gain hands-on experience in STEM (Science, Technology, Engineering and Math) fields.
"The NASA technology I saw this week, such as the construction facility for the James Webb telescope, which will be able to see farther into space than any other device in history, is a perfect example of the kind of innovation that ignites a passion within students to explore STEM," Burgos said. "It was also an honor to interview astronauts such as Paul Richards, and hear recommendations for students interested in STEM careers."
Burgos' coverage of the State of NASA event, including the video interview with Paul Richards and photos and quotes from the "clean room" where the James Webb telescope is being assembled, are available on Facebook at https://www.facebook.com/envisionSTEM?ref=br_tf and Twitter @EnvisionExp (https://twitter.com/envisionexp).
Envision's Technology and Science Programs
Students as young as third grade, and up through college level, can explore emerging technologies and STEM-related careers at Envision's immersive science and tech summer camps. All pre-college STEM programs are part of Envision's world-renowned National Youth Leadership Forums (NYLF). The college level STEM program is the International Scholar Laureate Program (ISLP) Engineering and Technology delegation. ISLP is a premiere study-abroad program enabling college and university students to develop specialized career skills on a global scale. To learn more about all Envision's youth science and technology (STEM) programs, visit http://www.envisionexperience.com/explore-our-programs?topic=s.t.e.m.
About Envision Experience
Since 1985, Envision programs have helped more than 800,000 students in more than 145 countries, develop the leadership and career skills needed to succeed in today's competitive college and career landscape. 96% of high school students attending Envision programs report acceptance at one of their three top college choices. Envision Experience is highly accredited by the Better Business Bureau.