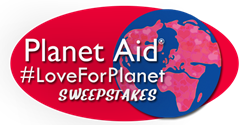 Baltimore, Maryland (PRWEB) February 10, 2015
Planet Aid, a non-profit that recycles clothing and shoes, is hosting a sweepstakes on Twitter for Valentine's Day. The #LoveForPlanet sweepstakes is spreading a message of love for the environment, encouraging people to practice green living.
The sweepstakes is running until 11:59PM on 2/14/2015. To enter, participants simply have to log in to Twitter, "follow" the @planetaid account, and "re-tweet" one of the contest tweets. One winner will be chosen randomly on 2/16/2015. The winner will receive a reusable bag and a $50 gift certificate to reuseit.com, an online store specializing in environment-friendly products.