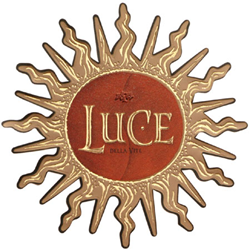 New York, NY (PRWEB) February 10, 2015
Luce della Vite announces today a celebration of its 20th vintage anniversary at Baryshnikov Arts Center (BAC) in New York City on Tuesday, May 5, 2015. The evening includes a performance of Merce Cunningham's RainForest in the Jerome Robbins Theater, performed by Stephen Petronio Company, followed by a reception in BAC's Howard Gilman Performance Space.
Luce, whose first vintage was produced in 1993, started as a partnership between iconic winemaking names Robert Mondavi and Vittorio Frescobaldi. It is the first-ever blend of Merlot and Sangiovese to emerge from the storied region of Montalcino, Italy; a feat that shaped the modern winemaking landscape thereafter. To celebrate and introduce the 2012 vintage, which marks its 20th harvest, Luce chose to partner with BAC because the two share a similar commitment to innovation and exploring new landscapes.
"We are happy and very proud to see Luce reach its 20th successful year. The vision of my father and his good friend, Robert Mondavi, to create an unprecedented wine that blends the best aspects of winemaking has become a reality, and we will continue to push forward with Luce in the coming vintages," says Lamberto Frescobaldi, head winemaker and principal for Luce della Vite. "We're excited to work with Baryshnikov Arts Center to honor this accomplishment and celebrate the performing arts community."
"Luce is clearly one of the foremost innovators in wine," says Georgiana Pickett, executive director of BAC. "Boldly connecting the art of winemaking to the pioneering work of John Cage and Merce Cunningham is testament to their fresh creative thinking. We are honored that they have identified BAC as a partner in innovation and we look forward to celebrating 20 years with them."
As part of the Luce 20th vintage celebration, Stephen Petronio Company will perform RainForest, a classic dance piece by the late Merce Cunningham, with set design by Andy Warhol and music by David Tudor. Cunningham was a prominent leader in the field of contemporary dance, and Mikhail Baryshnikov's friend and collaborator. To support Cunningham's legacy and recognize the importance of BAC's role in promoting innovative artists around the world, Luce will hold a wine auction at Christie's New York on June 18 and donate 100% of the proceeds to BAC. The auction lots will include a 20-year retrospective of Luce wines, large-format bottles and a VIP tasting.
For more information or materials regarding Baryshnikov Arts Center, please contact Kristen Miles at kmiles(at)bacnyc(dot)org. For more information or materials regarding Luce della Vite, please contact Maggie Doherty at mdoherty(at)colangelopr(dot)com.
About Baryshnikov Arts Center – http://www.bacnyc.org:
Baryshnikov Arts Center (BAC) is the realization of a long-held vision by artistic director Mikhail Baryshnikov to build an arts center in Manhattan that would serve as a gathering place for artists from all disciplines. BAC's opening in 2005 heralded the launch of this mission, establishing a thriving creative laboratory and performance space for artists from around the world. BAC's activities encompass a robust residency program augmented by a range of professional services, including commissions of new work, as well as the presentation of performances by artists at varying stages of their careers. In tandem with its commitment to supporting artists, BAC is dedicated to building audiences for the arts by presenting contemporary, innovative work at affordable ticket prices.
About Luce Della Vite – Lucedellavite.com:
Luce started with vintage 1993 as the collaboration between the families of Vittorio Frescobaldi of Tuscany, Italy, and Robert Mondavi of Napa, CA. The objective of these two great winemaking families was clear: combine their cultures and passion to create exceptional wines in Montalcino, Tuscany. Today the Luce della Vite estate is owned by the Frescobaldi family with a few minority shareholders. Lamberto Frescobaldi continues the original vision of the founders, producing unprecedented, unique wines from the exceptional terroir of Montalcino. Located southwest of the medieval town of Montalcino, the Luce della Vite estate covers 474 acres of land, 74 of which are vineyards. Most of the vineyards were planted in 1977 while new plantings were added in 1997 and 1999. Dating back to the Renaissance, the Frescobaldi family has been in the forefront of promoting and supporting the arts for six centuries.
About Stephen Petronio Company – Petron.io:
Acclaimed by audiences and critics alike, Stephen Petronio is widely regarded as one of the leading dance-makers of his generation. New music, visual art, and fashion collide in his dances, producing powerfully modern landscapes for the senses. For 30 years, he has built a body of work with some of the most talented and provocative artists in the world, including composers, visual artists, fashion designers and lighting technicians. Founded in 1984, Stephen Petronio Company has performed in 26 countries throughout the world, including over 35 New York City engagements with 20 seasons at The Joyce Theater. The company's latest initiative Bloodlines will honor the lineage of American postmodern dance masters and address the issue of protecting the postmodern tradition of artists who have inspired Petronio in his career as a dance-maker. Over the next five years, the Company plans to preserve and present works by artists such as Merce Cunningham, Trisha Brown, Lucinda Childs, Anna Halprin, Steve Paxton, Yvonne Rainer, and others.