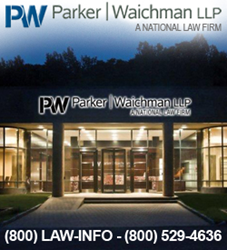 Patients should feel confident when they undergo procedures that they are receiving appropriate care with medical devices and procedures that have been sufficiently tested and that have received agency approval for the procedure they are undergoing
Port Washington, New York (PRWEB) February 11, 2015
Parker Waichman LLP, a national law firm dedicated to protecting the rights of victims injured by defective medical devices and unapproved medical procedures, is commenting on a recent settlement in a case involving Medtronic Inc. and "SubQ Stimulation" procedures. The case—United States ex rel. Nickel v. Medtronic, Inc. Civ. No. 09 - CV - 0203-S (W.D.N.Y.). (rml) NY—ended with Medtronic agreeing to pay $2.8 Million to Resolve False Claims Act Allegations, according to a February 6, 2015 U.S. Department of Justice (DOJ) report.
Medtronic will pay the United States to resolve allegations under the False Claims Act that include that the device maker caused some physicians from more than 20 states to submit false claims to federal health care programs, including Medicare and TRICARE, for the investigational and non-reimbursable "SubQ stimulation" procedures from 2007 through 2013, the DOJ wrote. The procedures involve placement of the spinal cord stimulation device beneath the skin near an area in which pain occurs, typically in the lower back. The devices are intended to release electrical impulses that cause a "tingling" meant to ameliorate chronic pain. According to the government's allegations, the device's efficacy and safety had not been established under the mandates of the U.S. Food and Drug Administration (FDA), yet Medtronic touted the procedure in various ways, including by arranging Medtronic-sponsored "on-site training programs" for physicians and customers. "Today's settlement demonstrates our commitment to ensure that beneficiaries of federal health care plans, including Medicare recipients and military families, receive medical treatments that have been proven safe and effective," said Acting Assistant Attorney General Joyce R. Branda of the DOJ's Civil Division. "Targeting chronic pain patients with a medical procedure that lacks evidence of clinical efficacy wastes the country's health care resources."
The civil settlement resolves a lawsuit filed under the whistleblower provision of the False Claims Act. This enables private parties to bring lawsuits on behalf of the government for false claims, potentially obtaining a portion of the government's recovery. This lawsuit was filed by a former Medtronic sales representative, who will receive $602,000, according to the DOJ.
"Patients should feel confident when they undergo procedures that they are receiving appropriate care with medical devices and procedures that have been sufficiently tested and that have received agency approval for the procedure they are undergoing," said Gary Falkowitz, Managing Attorney for Parker Waichman LLP.
According to Parker Waichman LLP, whistleblowers are crucial to detecting and stopping fraud. This settlement agreement enforces the message that actions will be taken against companies that commit fraud and other wrongdoing.
This is not the first time that Medtronic has settled with the DOJ. For example, Medtronic Inc.'s Sofamor Danek division (MSD) settled with the government over allegations of kickbacks paid to doctors to induce them to use MSD's spinal products and other allegedly improper sales and marketing practices. Medtronic, which denied any wrongdoing, agreed to, among other steps, place $40 million in escrow for the DOJ for release to the Department and the whistleblower. Government allegations included that, between 1998 and 2003, Medtronic paid kickbacks in a variety of ways and that these kickbacks violated the Anti-Kickback Statute and the False Claims Act. That Medtronic case is United States of America ex rel. Jacqueline Kay Poteet vs. Medtronic, Inc., et al., Case No. 03-2979 D/A
in The United States District Court for the Western District of Tennessee, filed February 1, 2007.
Whistleblowers are critical to ending illegal employer activities that may cause harm to consumers and may involve fraud against the government. In fact, under certain circumstances, whistleblowers may maintain their anonymity during most of the whistleblower process, according to Parker Waichman LLP. The Firm supports efforts to protect whistleblowers and offers free case evaluations to those individuals who believe their companies may be involved in illegal practices.
Parker Waichman comments that it is aware that patients may be harmed during medical procedures and as a result of the use of medical devices that have not received agency approval and is available to assist those individuals who have suffered injuries related to these procedures and medical products. "Consumers have a right to be assured that the devices and products used during their medical procedures are safe and effective," Mr. Falkowitz noted.
Parker Waichman LLP continues to offer free lawsuit consultations to victims of injuries due to allegedly defective or unapproved medical devices and procedures. If you or a loved one experienced complications following Medtronic SubQ Stimulation, please visit the firm's Defective Device page. Free case evaluations are also available by calling 1-800-LAW-INFO.