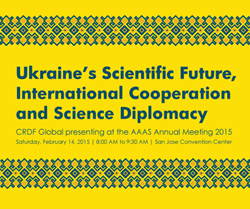 "Times of difficulty and transition are not times to avoid collaboration and engagement."
Arlington, VA (PRWEB) February 11, 2015
CRDF Global President and CEO, Cathy Campbell, will moderate a panel that explores Ukraine's future at this critical juncture, "Ukraine's Scientific Future, International Cooperation and Science Diplomacy" at the 2015 AAAS Annual Meeting, Saturday, Feb. 14 from 8-9:30 a.m. in room LL20B, San Jose Convention Center. CRDF Global is an independent nonprofit organization that promotes international scientific and technical collaboration in more than 40 countries through grants, technical resources, training and services. For nearly 20 years, CRDF Global has facilitated scientific and technological collaboration between the U.S. and Ukraine.
Participating in the panel will be Dr. Serhiy Kvit, Minister of Education and Science of Ukraine; Nataliya Shulga, Chief Executive Officer, Ukrainian Science Club; and Stas Khirman, Managing Partner, TEC Ventures. Panelists will discuss how the change of government in Ukraine provides an opportunity to reform the science and education sectors. They will discuss the impact of these reforms in increasing merit-based distribution of research funding, strengthening ties between universities and research institutes, building economic stability and growth, increasing transparency, and promoting educational excellence. Actions governments, universities, industry, and the National Academy of Sciences of Ukraine must take will be explored. Special attention to the potential role of international research and funding partners will highlight the value of science diplomacy and international collaboration to revitalize Ukrainian science. The climate for investment in Ukrainian technologies and the increased cooperation between investment funds from Silicon Valley and Ukrainian companies will also be addressed.
"The most important achievement of our ministry has been the higher education law that grants greater academic, financial and organizational autonomy to all of Ukraine's universities, but it is clear that more must be done at this critical time in our history," said Dr. Kvit. "We appreciate the opportunity to bring attention to the situation in Ukraine and explore international science and technology engagement as a means to help our recovery." We are also grateful to CRDF Global for its role in organizing this panel at the AAAS Annual Meeting," said Minister Kvit.
"Times of difficulty and transition are not times to avoid collaboration and engagement. This is the time to go in, contribute and invest," said Campbell. "We are extremely pleased to participate in this session that will further the discussion and frame the actions that must be taken to help restore Ukraine to its former science and engineering excellence. CRDF Global is also very encouraged by the education and science reform measures adopted by the current Ukrainian government," Campbell said.
CRDF Global is also pleased to facilitate Minister Kvit's presentations at two other influential venues while he is in the United States:
Reforming Ukraine's Universities During a Crisis – Stanford University
February 11, 6-7:30 p.m. Minister Kvit will speak at Cubberley Auditorium, 485 Lasuen Mall, Stanford University, Stanford, CA. The event is free and open to the public. Learn more.
Ukraine: Between Russia and the EU – World Affairs Council
February 12, 7- 8 p.m. he will speak at World Affairs Council Auditorium, 312 Sutter Street, Suite 200, San Francisco, CA. This event will also be live-streamed.
CRDF Global has a rich history of facilitating science and technology collaboration between the U.S. and Ukraine. It has provided more than 759 awards involving over 3,545 Ukrainian researchers. CRDF Global has implemented projects totaling over $13.5 million in Ukraine, with local governmental and non-governmental sources committing more than $4.2 million to further support these projects. In addition, CRDF Global has managed over $10 million through its financial logistical management services, helping to facilitate international collaborations between scientists in Ukraine and other researchers around the word.
About CRDF Global
CRDF Global is an independent, nonprofit organization established in 1995 to promote international scientific and technical collaboration through grants, technical resources, training, and services. CRDF Global has 20 years of experience managing international research funding programs and supporting emerging science and technology infrastructure in more than 40 countries in Eurasia, the Middle East, North Africa and South Asia.