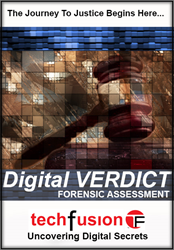 We've found in many cases that an initial understanding or preview of the evidence would be the most cost effective solution for our clients to either prove their suspicions or allay their fears..- Alfred Demirjian, CEO Techfusion
Cambridge, Massachusetts (PRWEB) February 11, 2015
Techfusion Corporation, a leading computer forensics and data recovery firm, announces the launch of its new Digital Verdict service, the nation's first introductory-level digital forensic assessment. Full-fledged computer forensic investigations are often cost prohibitive for the everyday consumer, forcing many to forgo a service they truly need for their peace of mind. Digital Verdict is specifically designed to offer valuable information while determining if there is a need for a full investigation. This low-cost initial review can save consumers thousands of dollars in legal fees, as well as countless hours of investigation.
Techfusion's CEO, Alfred Demirjian, notes, "Our clients are the most important part of our business... from the battered woman, to the client embroiled in a divorce, to criminal defense cases... In today's world, all kind of digital threats and intrusions exist. We've seen an enormous increase in the need for a basic assessment. Sometimes the hacker is already inside the house - perhaps a family member or friend. We've found in many cases that an initial understanding or preview of the evidence would be the most cost effective solution for our clients to either prove their suspicions or allay their fears. Our Digital Verdict service provides a low-cost alternative to single tier investigative firms and a full investigation, and puts computer forensics within reach of the everyday consumer. Our services are fast, reliable, and court-approved." As an expert witness, Demirjian has testified in countless court cases on behalf of the company's clients. Some of Techfusion's clients have included state police departments, family divorce lawyers, major universities, and prominent law firms.
Techfusion's 28 year history of providing digital forensics and data recovery services has earned them extensive local fame. Techfusion also uses sophisticated computer forensics tools. Their offices in Cambridge, Massachusetts offer a safe environment where users can review the Digital Verdict report which determines if there is a need for further, in-depth forensic investigation services. Techfusion's seasoned professionals can also assist in answering any questions clients may have to help understand and navigate the results.
Digital forensic investigations, especially in divorce and criminal cases, can be costly and time-consuming so it is necessary for clients to choose a service provider that is both economical and time-saving. The Digital Verdict service will have a low-cost entry point at $1500, including a full forensics image, and will cut the standard initial time-frame of a case by 2 weeks. Techfusion's findings are admissible in federal, state, and local courts.
For More Information, Contact: Brandon Ruse, 20 Concord Lane, Cambridge, MA 02138. Phone: 617-491-1001. email: brandon(at)techfusion(dot)com