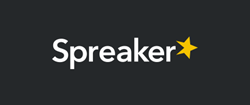 San Francisco, CA (PRWEB) February 11, 2015
Spreaker, the leading platform for podcasts, announced today its support of World Radio Day by The United Nations Educational, Scientific and Cultural Organization (UNESCO). In support of World Radio Day, Spreaker is offering new users free accounts* when they sign up using the promo-code: WORLDRADIODAY. Spreaker users can then broadly share personal audio stories instantly on the web from their mobile device by getting into podcasting for free.
Spreaker has already helped millions of people have a voice through podcasting, and is honored to support World Radio Day, held this coming Friday, February 13, 2015. This year marks the 4th anniversary for the UNESCO initiative, and will focus on young broadcasters utilizing the power of radio to share their stories to help foster change.
"Radio not only has a rich and vibrant history to entertain and inform, but it is the mass media that reaches the widest audience in the world as the most inclusive and low-cost medium," said Francesco Baschieri, Spreaker founder and CEO. "Radio is currently in the throes of great transformation with the rise of podcasting and live audio streaming services, and it's being reinvented by young people, not just as listeners but also as active producers and broadcasters of content. Spreaker's mobile and web-based apps allow anyone to have their own radio show instantly."
As witnessed in the wildly popular Serial podcast, the simple yet powerful tool of broadcasting via podcasts can help bring attention to causes demanding justice. In the now famous case chronicled in the series, the subject Adnan Syed just had a crucial victory in his case due largely to the attention his case received from the podcast series, as reported by NPR and many others.
(Update: Court of Special Appeals Will Hear Arguments in Adnan Syed Case,
By Sarah Koenig, This American Life, 2/7/15, serialpodcast.org/posts/2015/02/update-court-of-special-appeals-will-hear-arguments-in-adnan-syed-case)
Currently, 26 percent of the world's population is people aged between 10 and 24, more than a quarter of the total 7 billion. Yet there is a noticeable lack of young voices on the global airwaves, and a very small amount of programming specifically produced by young people. Only through linking generations can radio live up to its potential as an inclusive vector of culture, education and information.
Spreaker aims to close this gap by encouraging the youth to jump into broadcasting through podcasts and share their voice with the global community by using the hashtags #spreaker and #worldradioday and creating a free account* applying the code: WORLDRADIODAY.
UNESCO lists a myriad of ways to celebrate on their website linked above.
Additional Resources
Like us on Facebook
Follow us on Twitter
*Code WORLDRADIODAY good exclusively for new 'On-Air Talent' accounts for 30 days.
About Spreaker
Spreaker® is the market-leading platform for podcasts offering easy-to-use applications that empower people to create, share and discover live audio broadcasts and podcasts from any computer, tablet or mobile phone. Spreaker is based in San Francisco and Berlin. For more information, please visit http://www.spreaker.com.
Contact:
Hal Bringman
hal(at)nvpr(dot)com
Desk +1 (206) 299-0622 ext 801
Mobile +1 (310) 210-8011
Skype: halbringman