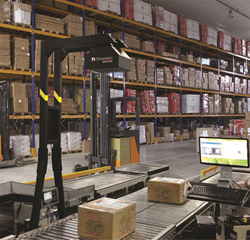 Rice Lake, Wis. (PRWEB) February 11, 2015
Rice Lake Weighing Systems will be displaying their new dimensioning product, iDimension, at booth 841 February 23-24th at RILA's Retail Supply Chain Conference in Orlando, Flor. RILA is the event for leaders in retail supply chain channels to gather and experience up-and-coming innovations and new products and services available in the industry. Rice Lake will showcase iDimension's innovative 3D imaging technology and demonstrate its value to the retail industry.
From small businesses and mail counters to large operations, Rice Lake's iDimension product series can be used in a variety of applications to ensure freight compliance and avoid revenue-loss from miscalculated dimensions. iDimension's multiple patented, innovative sensing technology and 3D imaging work together to optimize time and throughput. Only iDimension instantly captures and calculates the dimensions of packages, flats, polybags, tubes and irregular shapes with ease, accuracy and in an industry leading 0.2 seconds within 5 millimeters of accuracy. Unlike other dimensioning models that require exact parcel placement, iDimension can quickly capture dimensions from parcels placed anywhere in its zone of interest work area.
iDimension is packed with innovative technology, and without any moving parts to service, it is an easy-to-maintain dimensioning solution. An added high-resolution camera captures an image of the parcel to identify bar codes and collect OCR data. Its free API allows users to interface with the system using a simple HTTP request and XML parsing method. iDimension is easily installed over existing conveyors and workstations, streamlining operations and optimizing efficiency and quality. Rice Lake invites RILA attendees to visit booth 841 to speak to a Rice Lake iDimension product specialist or visit http://www.ricelake.com/dimensioning for more detailed specifications.
Rice Lake Weighing Systems strives to be the leader in every aspect of the weighing and measurement industry, without sacrificing its founding principles of quality and customer service. Rice Lake Weighing Systems is an ISO 9001 certified corporation with headquarters, metrology laboratory and main manufacturing plant in Rice Lake, Wis., with support facilities throughout the world including North America, South America, India and Europe.