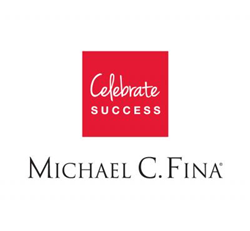 (PRWEB) February 11, 2015
Long Island City, NY - As service anniversaries and milestone awards are a vital part of developing strong employee-employer relationships, Michael C. Fina, a leading provider of global employee recognition and incentive programs, has published a new eBook, "The Basics of Modern Service Awards."
According to the eBook, successfully recognizing an employee's professional journey requires a commitment to the service award experience and being mindful of workers' geographic locations and respective generation.
Helping companies infuse creativity into their service award programs, Michael C. Fina's eBook offers ways to:
1) Reinvigorate a legacy service award program
2) Make recognition office-wide by involving employees who telecommute or work in remote office locations
3) Ensure recognition efforts resonate with workers across multiple generations
Known for increasing employee loyalty and creating a positive company culture, service award programs are used by 84 percent of organizations, according to WorldatWork.
"While companies continue to search for new ways to celebrate today's fast-paced and increasingly mobile workforce, service awards remain a cornerstone of workplace recognition, and need to stay current with the times," said Ashley Fina, president of Michael C. Fina. "Modern programs use employee demographics, new technology, and leadership savvy to create meaningful and memorable recognition experiences."
For more information, download "The Basics of Modern Service Awards," at http://info.mcfrecognition.com/Modern-Service-Awards-eBook.html.
About Michael C. Fina
Michael C. Fina is a leading provider of global employee recognition and incentive programs that not only align with core values and business goals, but also inspire people to do great things. With a focus on personal service, the company's recognition and incentive programs help organizations develop more inspired relationships with their employees. Headquartered in New York since 1935, Michael C. Fina is family-owned and operated and certified by the Women's Business Enterprise National Council.
###